Pine Marten Workshop
Saturday 30th October
 2021 3 spaces
Saturday 27th November
 2021 3 spaces
 

Cost £140
One to one available £350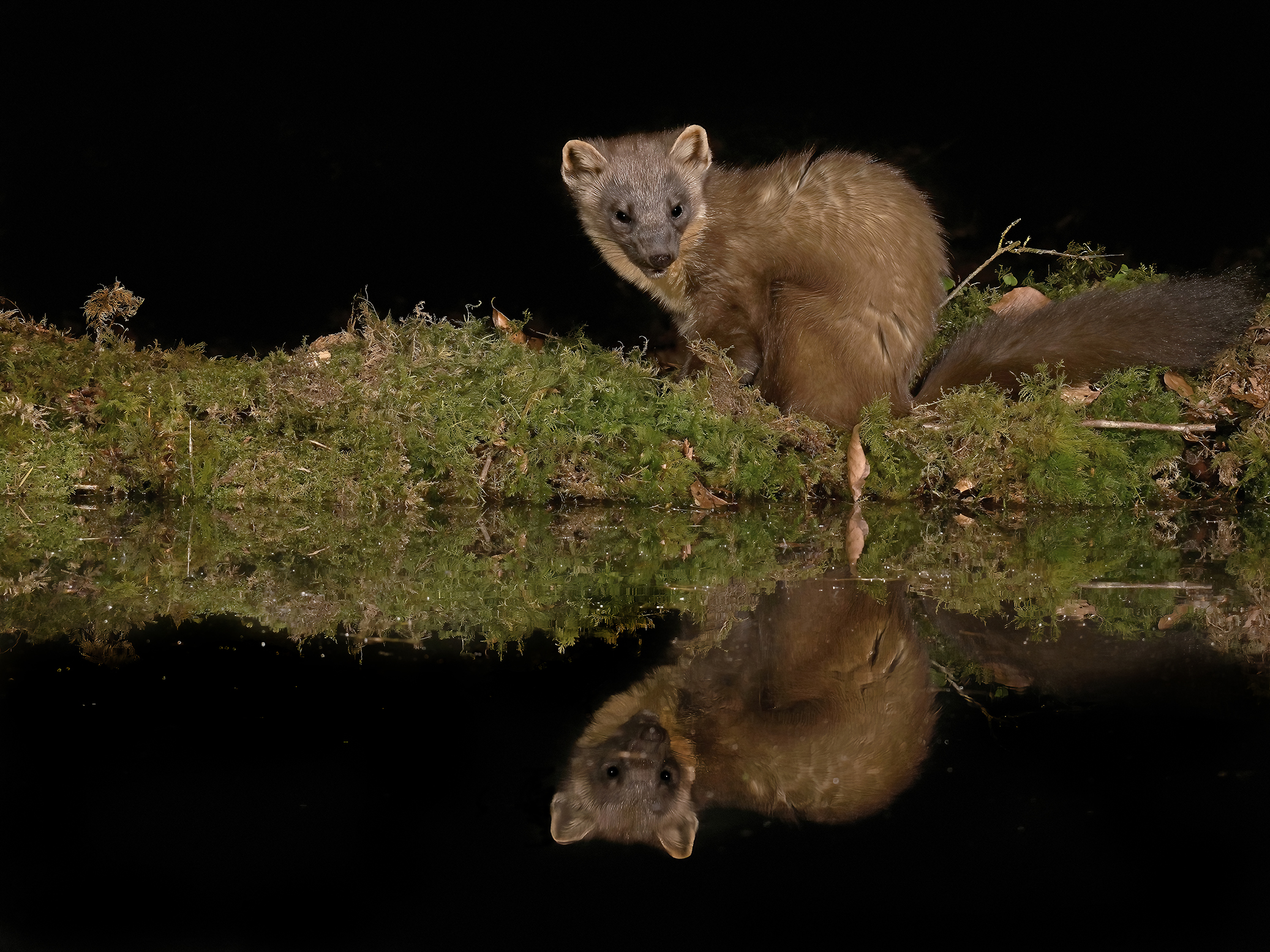 This is a great opportunity to photograph one of Scotland's rarest mammals. The pine marten is nocturnal and this is a great opportunity to photograph them in their natural habitat. It's possible to get them standing up and jumping although these images are difficult. They are photographed under lights which as you can see from the images in the gallery, the lights work really well with the martens. The workshop is three to four hours in length.
Remember that even though the photographer can expect certain things, pine martens are wild animals and they move with free will and to their own schedule. Photographers are required to have patience and keep absolutely silent when photographing from the hide.
We will go through exposure techniques and exposure compensation required to get the images on this workshop
Hide Etiquette
It is important in this hide that you are very quiet. These mammals are incredibly sensitive and strict silence is nessacary. Please do not wear clothing which rustles, please do not bring paper bags that crackle. No toilet breaks during the session, talking needs to be kept to a minimum,  no lights, and coughing will keep the martens away. Silent shutter and single-shots to start with are advised. If you are quiet you will have a great chance of success, but if not there is a great chance of failure.
Max Participants: Three photographers

Equipment
Lenses: 300mm – 600mm – teleconverters are useful.
Zoom lenses are very good for this workshop
Bean bags are very useful, tripods can be used but are cumbersome.
A head torch is very useful in the hide
Cost – £140 per person, max 3 people
One to one available £350
Testimonials
Lee Myers
Miles from anywhere, frozen to the core on one of the coldest nights so far this year, but the appearance of the pine marten made the effort well worth it.
Lee Myers
Leonard Esakowitz
I had a wonderful time in the good company waiting for pine martens to appear. Deep in the dark sky park and approx minus 6 degrees. Will be investing in some warm wellies! Seeing the pine marten was a special treat and my pics are ok just a bit noisy due to 5000 ISO used. Very pleased I went!
Thanks, Ron!
Leonard
Pine Marten Workshop interest form