Royal Python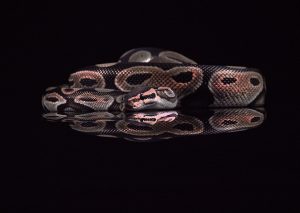 The Royal Python is known as the ball python (Python regius), is a python species native to sub-Saharan Africa. Like all other pythons, it is a nonvenomous.
This terrestrial species is known for its defence strategy that involves coiling into a tight ball when threatened, with its head and neck tucked away in the middle. In this state, it can literally be rolled around. Favoured retreats include mammal burrows and other underground hiding places, where they also aestivate this is a state of animal dormancy similar to hibernation, although taking place in the summer rather than the winter. Aestivation is characterized by inactivity and a lowered metabolic rate, that is entered in response to high temperatures and arid conditions. It takes place during times of heat and dryness, the hot dry season, which are often the summer months.
Invertebrate and vertebrate animals are known to enter this state to avoid damage from high temperatures and the risk of desiccation. Both terrestrial and aquatic animals undergo aestivation. The fossil record suggests that aestivation may have evolved several hundred million years ago.
In captivity, they are considered good pets, with their relatively small size and placid nature making them easy to handle.
All my photographs displayed on the website are here for you to enjoy, it is hoped that you will experience some of the pleasure enjoyed when taking them. If you wish to own a copy yourself feel free to use the online print order service. The beauty of the wildlife that surrounds us is clearly shown in the images within. All images are the copyright of Ron McCombe, reproduction without written permission is not allowed.
No Results Found
The page you requested could not be found. Try refining your search, or use the navigation above to locate the post.
Ron McCombe Wildlife Photographer
Tel: 01450 870044
Mob: 07962401770