Bearded Dragon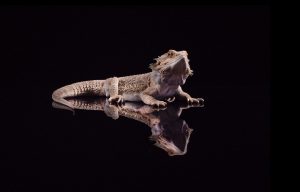 Bearded dragons can grow to about 2 feet long. Half of the length of a bearded dragon's body is its tail. Females are usually smaller than males. If a bearded dragon is scared, it will flatten its body against the ground, puff out its spiky throat, and open its jaws to make itself look larger. Bearded dragons sometimes open their mouths wide to allow hot air to warm them better when they are lying in the sun. They also open their mouths to help them cool down; the warm air and heat escape through their mouths. This behaviour is similar to panting.
Bearded dragons eat small and large insects, such as grasshoppers and worms. They also eat leaves, fruit, vegetables and flowers. They get most of their water from the food they eat, but they also need to drink sometimes. 
n the wild, the central bearded dragon lives in dry, hot forests and deserts in central Australia and Texas. They can climb very well, and spend a lot of time on top of tree branches, fence posts, and bushes. They are cold-blooded and need the sun to keep their bodies warm, so they spend the mornings and evenings out in the sun. During the hottest part of the day and during the night they hide underground. If you ever see a bearded dragon with his head pointed down and flat it is sick and you should not touch it.
Bearded dragons do not make sounds usually, but when they are scared they might hiss like a cat. They move their bodies and change colour to talk to each other. Sometimes, young bearded dragons will wave their arms to greet adults. A dominant bearded dragon will take the highest spot to rest, and will climb over others to get there. Bearded dragons also bob their heads up and down to communicate.
When a female bearded dragon is ready to lay eggs she will not eat very much and will spend most of her time trying to dig a hole to put the eggs in.
All my photographs displayed on the website are here for you to enjoy, it is hoped that you will experience some of the pleasure enjoyed when taking them. If you wish to own a copy yourself feel free to use the online print order service. The beauty of the wildlife that surrounds us is clearly shown in the images within. All images are the copyright of Ron McCombe, reproduction without written permission is not allowed.
No Results Found
The page you requested could not be found. Try refining your search, or use the navigation above to locate the post.
Ron McCombe Wildlife Photographer
Tel: 01450 870044
Mob: 07962401770