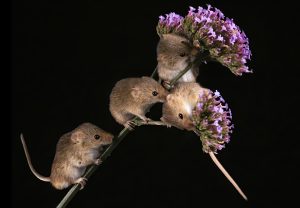 The harvest mouse is tiny – an adult can weigh as little as a 2p piece! It prefers habitats with long grass, but you are most likely to spot its round, woven-grass nests.
The tiny harvest mouse lives in long tussocky grassland, reedbeds, hedgerows, farmland and around woodland edges. It is mainly vegetarian, eating seeds and fruits, but will also eat invertebrates. Harvest mice build a spherical nest of tightly woven grass, high up in the tall grasses, in which the female will give birth to around six young.
The harvest mouse is the only British mammal to have a prehensile tail: it can use it as a fifth limb, holding on to grass stems with it.
These images are of captive mice
All my photographs displayed on the website are here for you to enjoy, it is hoped that you will experience some of the pleasure enjoyed when taking them. If you wish to own a copy yourself feel free to use the online print order service. The beauty of the wildlife that surrounds us is clearly shown in the images within. All images are the copyright of Ron McCombe, reproduction without written permission is not allowed.
No Results Found
The page you requested could not be found. Try refining your search, or use the navigation above to locate the post.
Ron McCombe Wildlife Photographer
Tel: 01450 870044
Mob: 07962401770