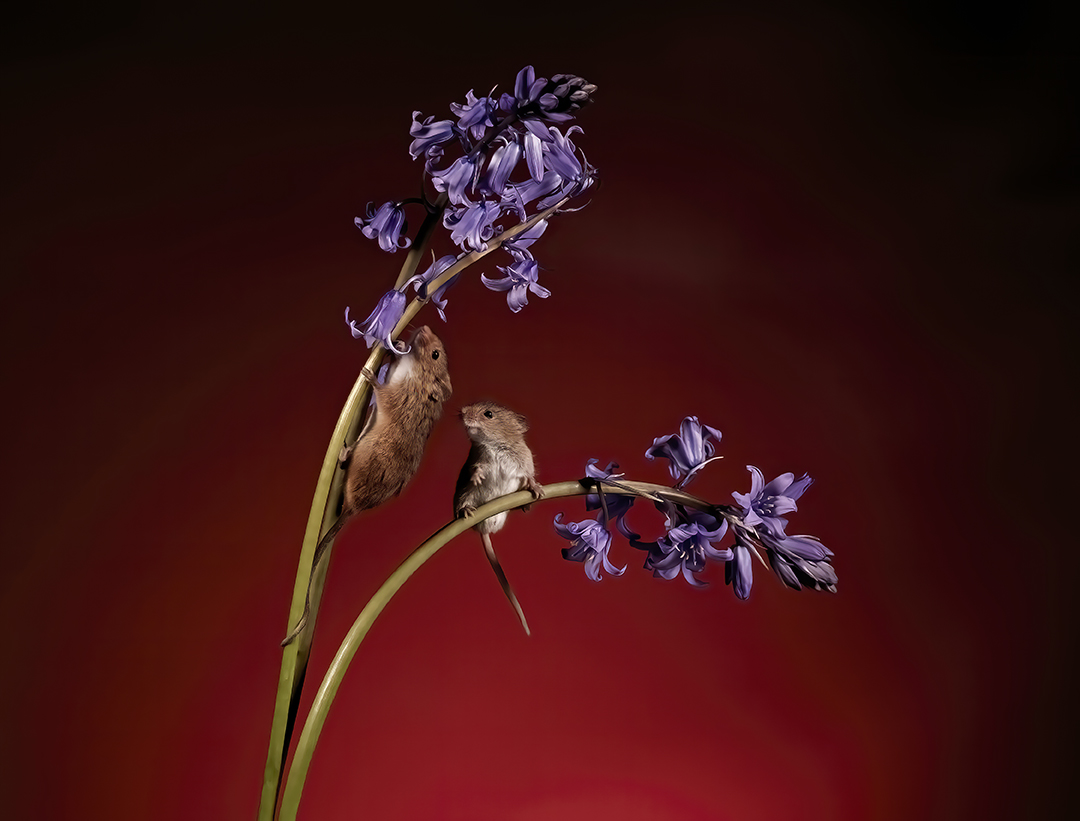 The harvest mouse is tiny – an adult can weigh as little as a 2p piece! It prefers habitats with long grass, but you are most likely to spot its round, woven-grass nests.
The tiny harvest mouse lives in long tussocky grassland, reedbeds, hedgerows, farmland and around woodland edges. It is mainly vegetarian, eating seeds and fruits, but will also eat invertebrates. Harvest mice build a spherical nest of tightly woven grass, high up in the tall grasses, in which the female will give birth to around six young.
The harvest mouse is the only British mammal to have a prehensile tail: it can use it as a fifth limb, holding on to grass stems with it.
These images are of captive mice
Click on the above images to see workshop page 
Please click on the image below to see details of the workshop that takes your interest
Terms and Conditions
A 50% non-refundable deposit is required to hold the booking, the reservation is made when the booking form and deposit has been received from you and the booking confirmed via e-mail from Ron McCombe Wildlife Photography.
Deposits paid are not refundable, the balance for the workshop you have booked is payable by November 1st for the Otters Workshop and one month before the start date of other workshops.
Cancellations 
Unless notice of cancellation is received before the balance payment date the balance will remain payable and due. It is your responsibility to take out travel insurance to cover the cost of sickness and unforeseen eventualities e.g. severe weather
If your trip has to be cancelled by Ron McCombe Wildlife Photography, a full refund of paid monies will be made, however, no further liability will be accepted by Ron McCombe Wildlife Photography.
During the tour, you must behave in a way that is not disruptive to the species we are photographing, or upsetting or dangerous to you or colleagues on the workshop, and you must follow the reasonable requests of the tour leader. Ron McCombe Wildlife Photography will be able to terminate your participation in the tour if your behaviour is, in its reasonable opinion, in breach of this obligation and in such circumstances Ron McCombe Wildlife Photography will have no further liability to you.
Ron McCombe Wildlife Photography will not be liable for any cost and/or loss you incur which is as a result of your actions or the actions of a third party unconnected with Ron McCombe Wildlife Photography which Ron McCombe Wildlife Photography could not reasonably foresee or forestall, any unusual or unforeseeable event beyond the reasonable control of Ron McCombe Wildlife Photography.
It is a fundamental booking condition that you accept the hazards involved in visiting remote areas and engaging in potentially dangerous activities. To take part in one of our tours you must be covered by adequate insurance for the duration of the tour and for the activities undertaken. The insurance must cover the cancellation and curtailment by the operator, including workshops where boats are used for the workshop or for transportation purposes, medical and emergency expenses (including repatriation), personal accident, injury and death. In addition, you should be insured against loss of or damage to baggage, personal possessions and flight cancellations and delays.
Ron McCombe Wildlife Photography does not accept liability for death, bodily injury or illness unless this arises from the negligent act or omission of Ron McCombe Wildlife Photography employees during the course of their employment. Ron McCombe Wildlife Photography and its employees are covered by worldwide public liability insurance up to a maximum of £5,000,000 in any one event.
Governing Law
These Terms and the relationship between you and us shall be governed by the law in Scotland. Any dispute may be decided by the Scottish courts or those of any other part of the United Kingdom.
All Ron's photographs displayed on the website are here for you to enjoy, it is hoped that you will experience some of the pleasure enjoyed when taking them. If you wish to own a copy yourself feel free to contact me. The beauty of the wildlife that surrounds us is clearly shown in the images within. All images are the copyright of Ron McCombe, reproduction without written permission is not allowed.
If you would like a print or use of any of the pictures on my site or would like to commission a piece of work please don't hesitate to contact me and I will be happy to discuss your requirements. Please email me at this link
No Results Found
The page you requested could not be found. Try refining your search, or use the navigation above to locate the post.
Ron McCombe Wildlife Photographer
Tel: 01450 870044
Mob: 07962401770