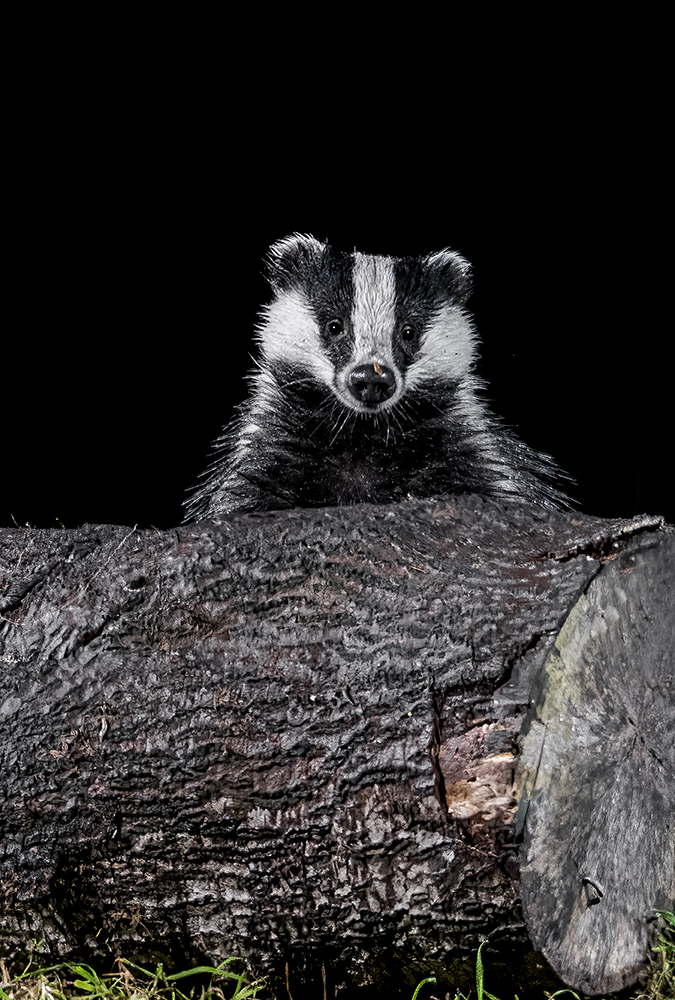 Badger Hide
Nr Hawick, Scottish Borders
One Photographer – £60
Two Photographers – £50 per person
Two people max
Gift Vouchers available
Contact me for availabilit

y

sales@wildlife-photography.uk.com
European Badger 
The Badgers are undoubtedly one of the UK's most popular and best-loved wild mammals. They are primarily nocturnal and generally shy, and they are usually quite difficult to see. The badgers are very close and great shots of these iconic mammals are possible. The badgers come in after dark but under six floodlights, 
Important
The photographer needs to have patience in this hide as the badgers can come at any time, sometimes a long wait is needed before they appear. You should be prepared to be in the hide for 6 – 8 hours if necessary. 
The badgers have an acute sense of smell and hearing they are less than 20 meters away strict silence is necessary to get your images.
If you are bringing food and drink please be sure that the food is in containers and not in packets  that rustle  e.g. crisps and biscuits
Please note that this is now a hide rental, due to COVID 19 situation. The hide holds two people comfortably but I am unable to give a workshop because of social distancing We will talk through settings etc on arrival but you will be in the hide by yourself.
The typical length of the workshop is six hours and starts after dark, March to November. Start times  vary and you can stay in the hide as long as you like
Badgers are nocturnal: they sleep during the day and are active at night. They emerge from their sett in the evening to play, socialise and forage. Unfortunately for the photographer, they don't come out at the same time every time.
Naturalists universally agree that badgers have an acute sense of smell, pretty good hearing and rather poor vision.
Eyesight
The badger's eyes are quite small, and its eyesight is not particularly good. Also, like many other animals, badgers cannot see anything in colour, only black, grey and white. Whilst they cannot see details very well, they can make out shapes, and movements.
Sense of Smell
It is thought that the badger's sense of smell is 700 to 800 times better than ours!". The sense of smell in badgers is extraordinarily well developed and is undoubtedly their most important sense
Hearing
Badgers also have acute hearing, they can pick up the smallest of sounds. They can even hear worms as they dig towards the ground surface in the rain
Equipment
The Badgers will come very close on this workshop so in terms of lens recommendations, anywhere between 200mm, 300mm, 400mm lenses are all useful, 70 – 200 mm and 100 – 400 mm, 500 mm, 150 – 600mm zoom lenses are all very good. A tripod is essential for supporting your lens in this hide.
Mirror-less micro four-thirds cameras are well suited to this workshop,
See more images in my badger gallery Badger Gallery 
  Cost
One Photographer – £60
Two Photographers – £50 per person
Gift Vouchers available
To book, just fill in the form below and I will get back to you quickly.
In the event of a Badger "no show" you will be offered another date free of charge.
A 50% deposit is required to secure the booking date, the full amount is payable if you book within a month of the workshop date.
Please pay by BACs Transfer details below  or by cheque
Santander  
Account Name Mr AR McCombe
Account No 35735528
Sort Code 09 01 27
Testimonials
Ron,
Just wanted to say thanks for having me…..I had a great night just sat waiting, even the anticipation was enjoyable. You have a great set up in both woodland birds and badger hides. I got some greats shots of the badgers as they tipped up. Hopefully, I will get back later in the year for another workshop and we can spend a bit of time over a coffee or two.
Take Care Gaz……. Gary Wilson
That was an amazing experience! The badgers came back quite a few times and I managed to get some lovely shots which I'll process when I get home. One, in particular, came closer and seemed really chilled- it stayed for quite a while.
I would love to come back sometime – it's a great set up!
When I was in your badger's hide Ron it was thrilling when the first sight of the badger came. It did the sniffing then made its way to the lit area and food. Got some great images. I want to have another visit.
Joe Gilhooley………..
Ron
Just wanted to say thank you so much for setting us up last night in the hide and allowing us to use your amazing set-up, which is all the more impressive for being comfortably outside your front window!
As you were no doubt aware, the first appearance was getting on towards 9.30, when suddenly a very burly badger appeared from the end of the garden close to the woods.  Very wet front legs so look like he'd been doing some paddling.  He absolutely mowed in like Desperate Dan at the food on the bigger logs to our left and was there for quite a while.  After he trundled back off the way he'd come, another, very much more tentative one quietly entered stage left. Potentially 6 individuals came in though we will need to scrutinise the pictures carefully to see if that's really the case or if any had been in and returned.
You've done a fantastic job on the setup, which must have taken ages, gaining their confidence and making them comfortable with the sounds of cameras and flashes of light.  Has to rate as one of, if not the best Christmas present we've ever had, and have told the young ones how much we appreciated it – and will spread the word, you can be sure.
Many thanks again for sharing the fruits of your labours with us.  It was a great experience.
Alan Drummond, Earlston …………………..
Badger workshop interest form