Portfolio of Images
Ron McCombe Wildlife Photographer
Workshops – Images – Illustrated Talks
Ron has been a full-time wildlife photographer for over fifteen years, running workshops here in the Scottish Borders and throughout Scotland and Northern Europe. He also travels to Africa, Canada, USA, Spain, Poland, Sweden, Finland, Germany, and the Czech Republic searching for his images.
Ron has a large image library of his photographs and gives illustrated talks to interested groups,
All the images displayed here are the copyright of Ron McCombe. If you would like to own a copy of one or more please contact him on this link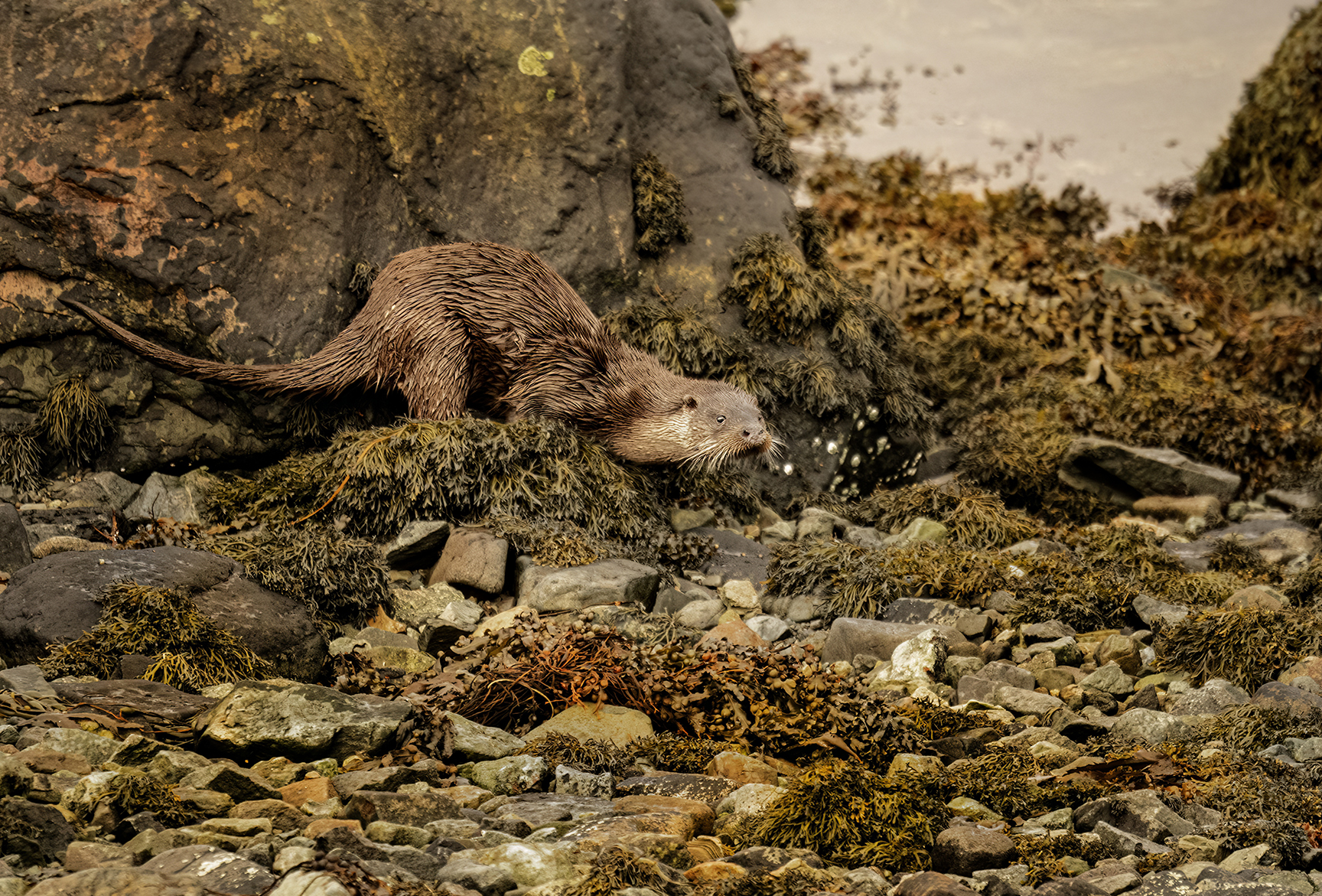 Male Sparrowhawk in the woodland bird hide area, the hawk visits every day for an easy meal, it streaks through the feeding area, sometimes catching a bird, sometimes not, but rarely sitting to allow images to be taken of him. On this occasion, he sat for ten minutes or more before moving off at great speed and disappearing over the hedgerow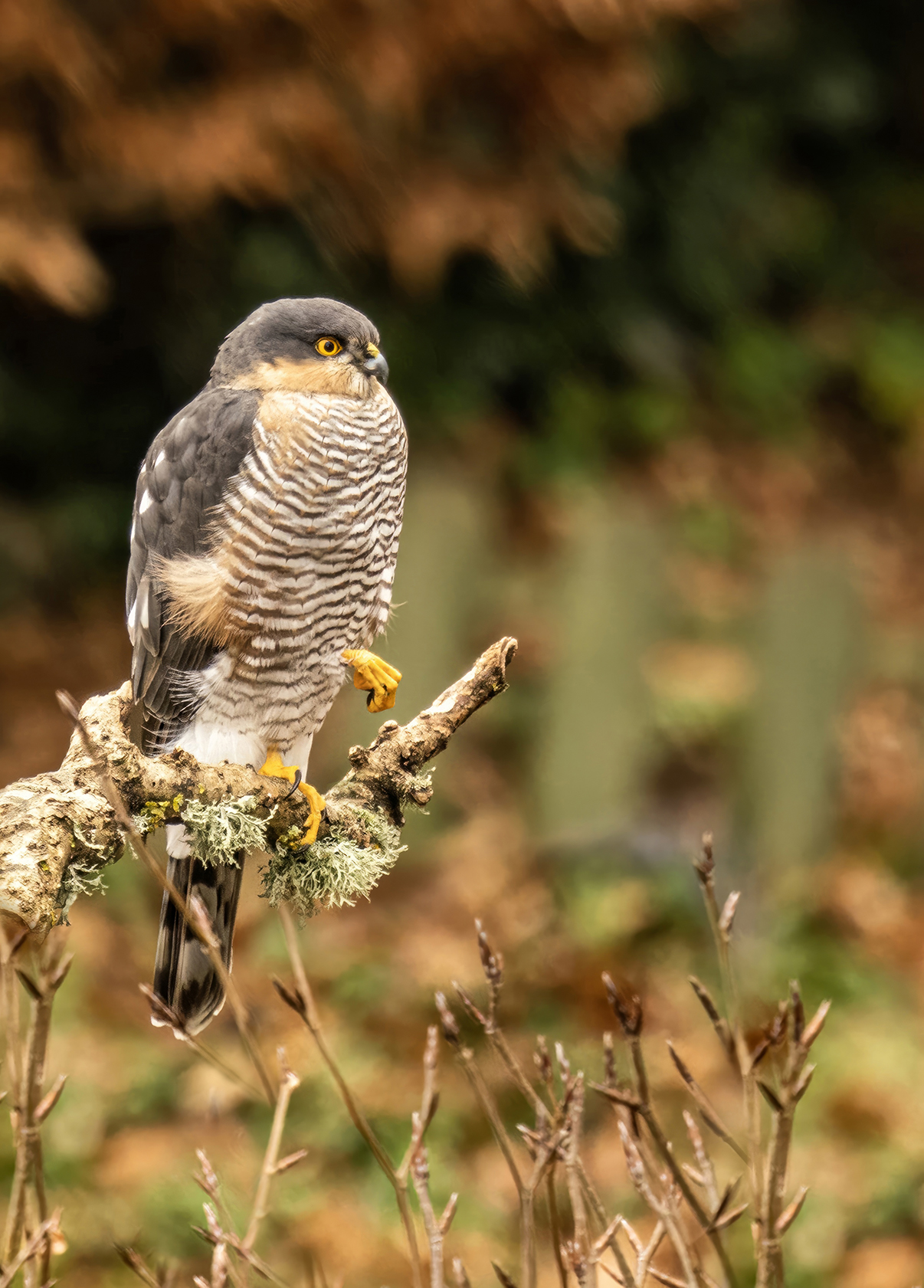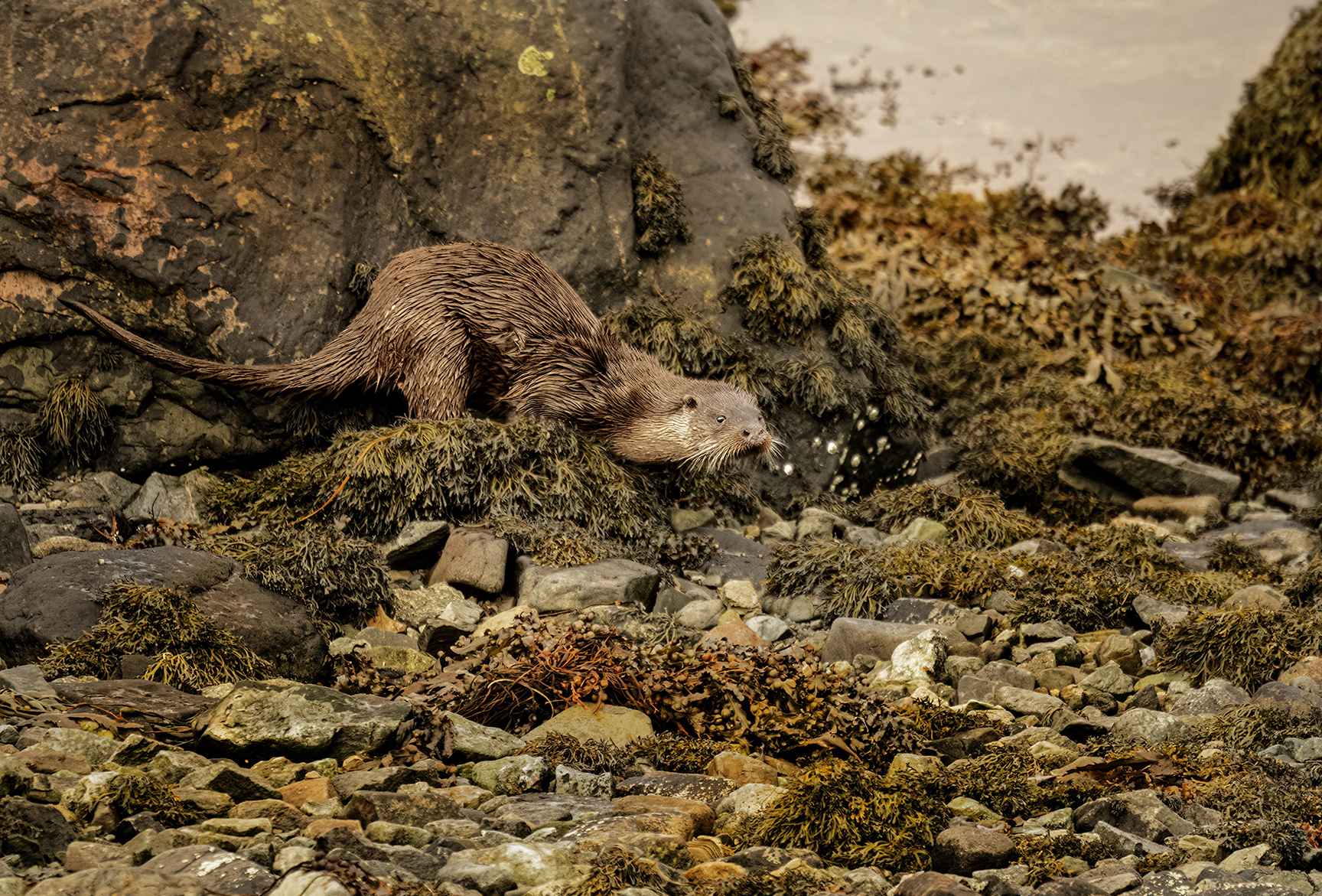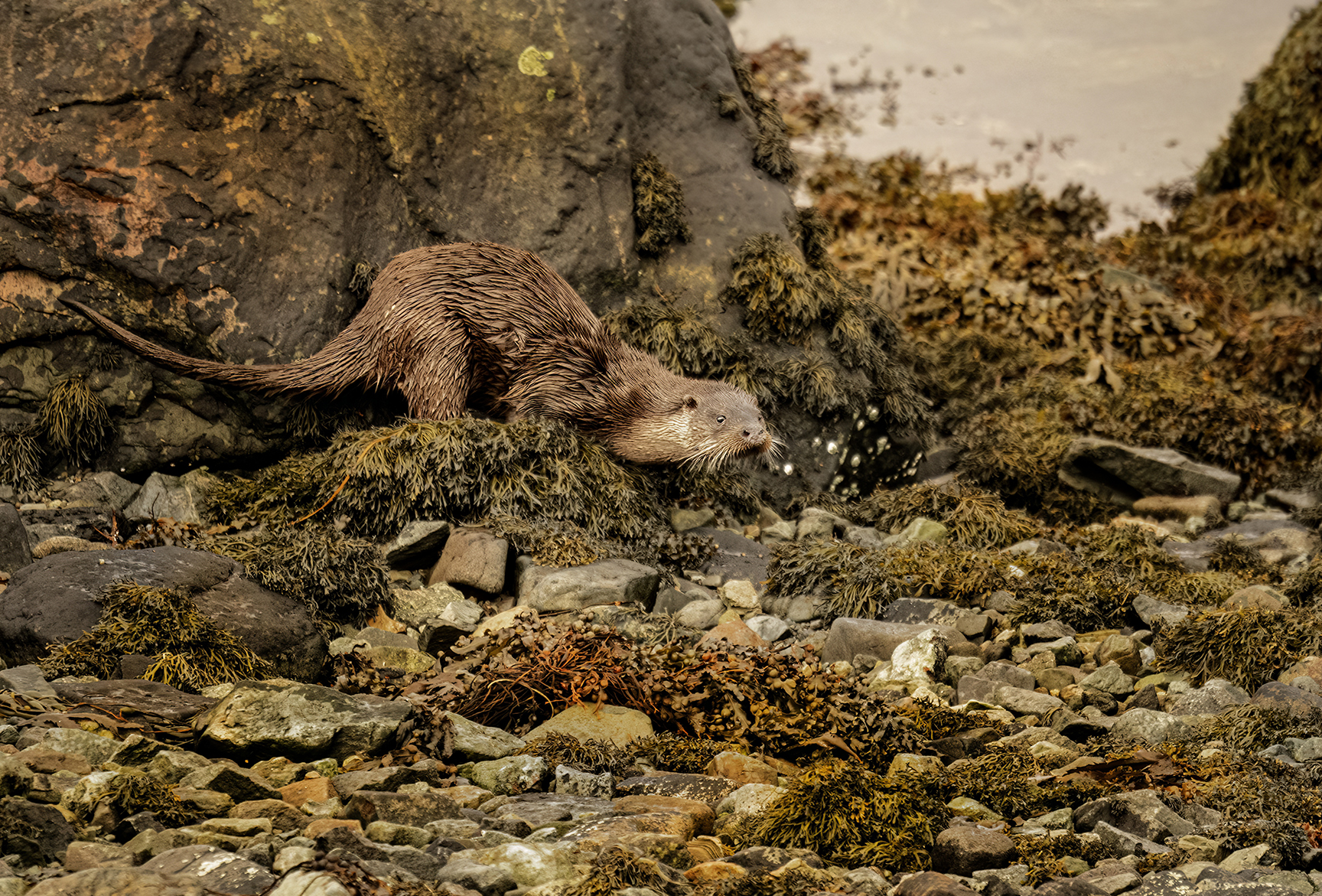 Eurasian Otter taken on the Isle of Mull during my last workshop in January. It's always great when you can get close enough to get images like this. The workshop is four days of photography. In all, we saw 16 individual otters and photographed most of them. This is the one I like the most of all the images I took at the workshop 
If you would like to come along and photograph or film the otters or check availability, please see details on this link
https://www.wildlife-photography.uk.com/otters-workshops/
Blue tit at my woodland bird hide, I see lots of action as the birds start to get a bit frisky in the sunshine. Not the easiest of images to get put I get great pleasure from sitting and waiting for the opportunity to get pictures like this, Olympus OM1 100 to 400 Zuiko zoom lens, using procap
If you would like to come along and photograph or film the birds or check availability, please see details on this link
https://www.wildlife-photography.uk.com/woodland-birds-workshop/     `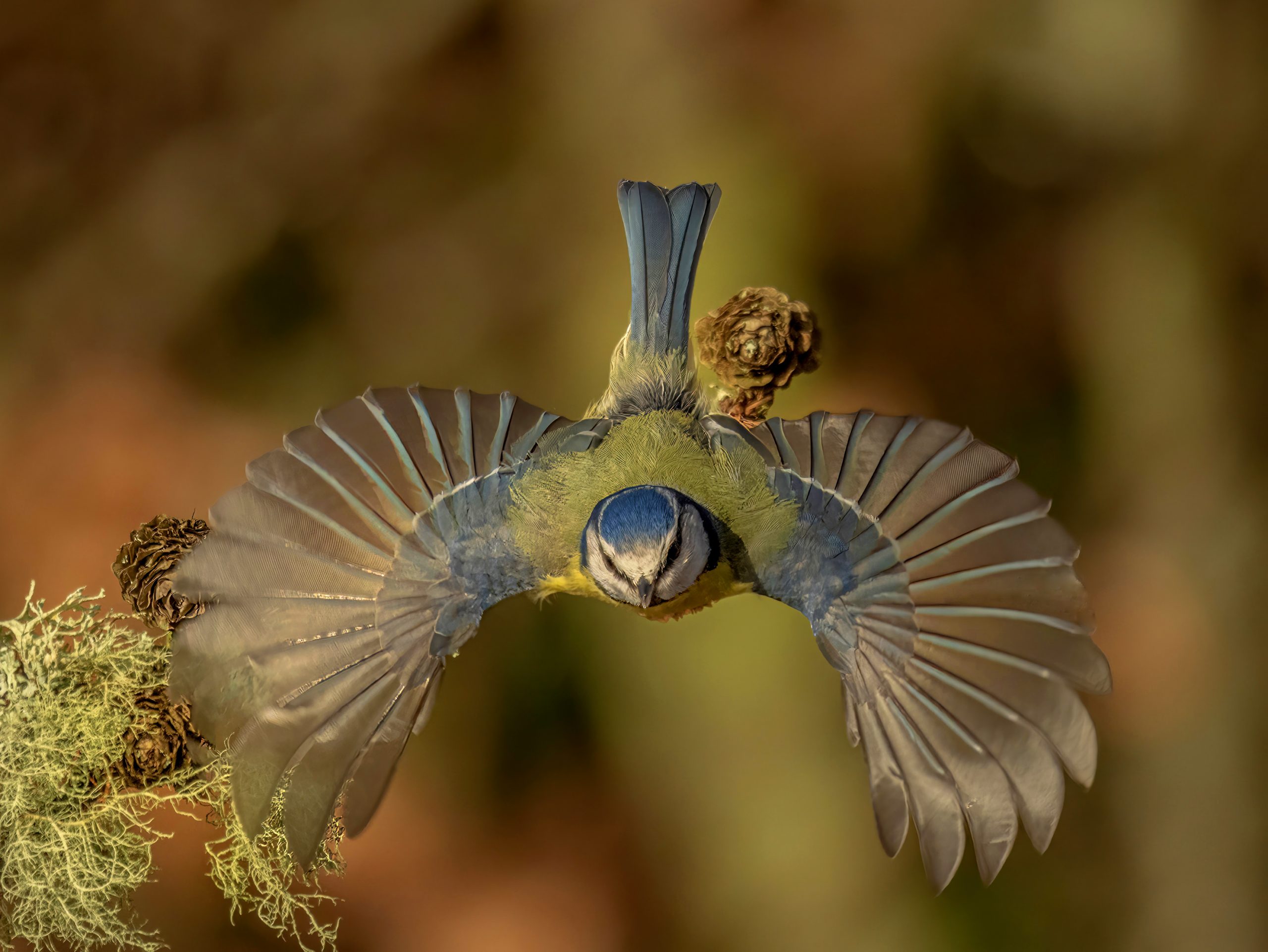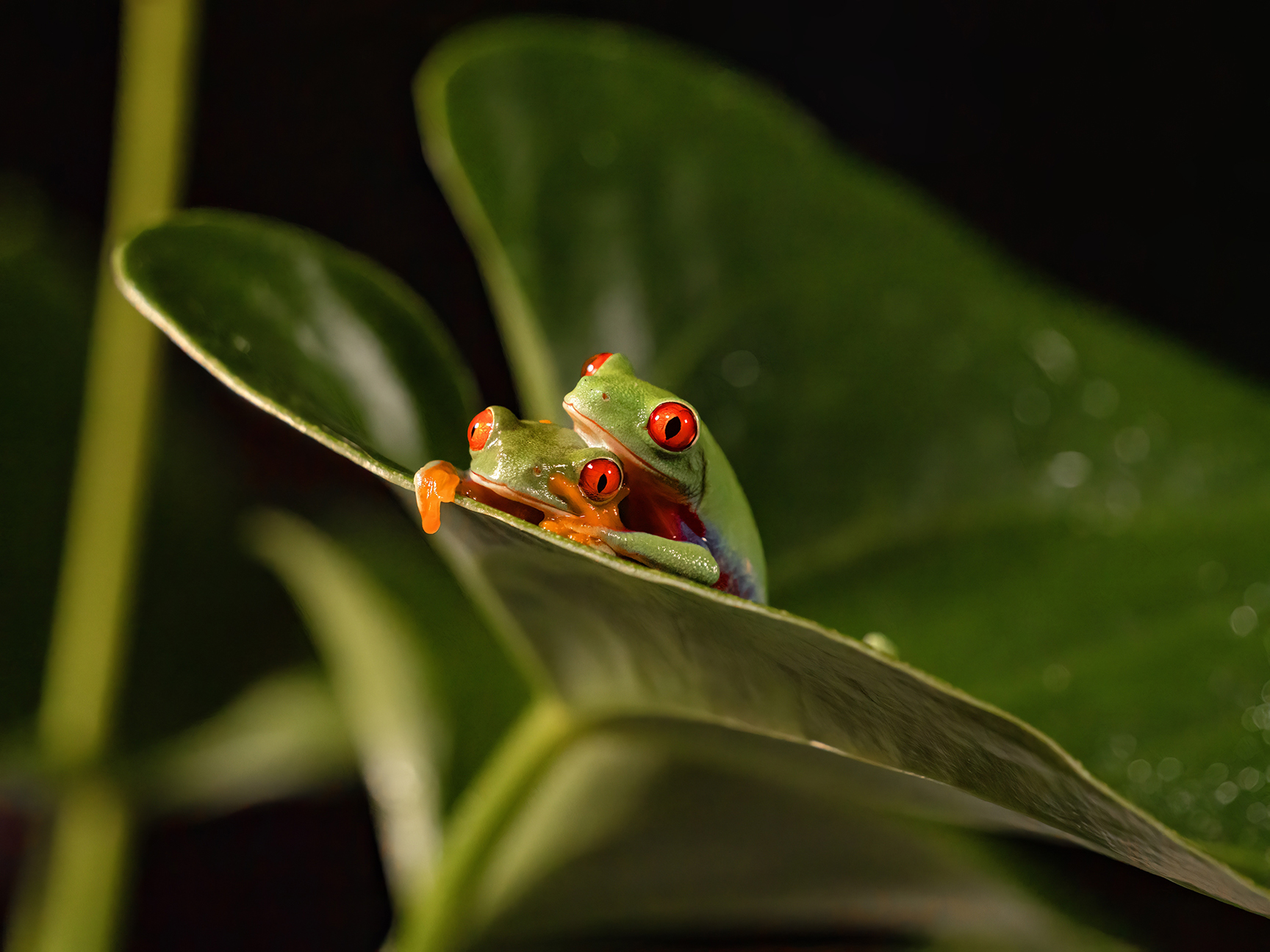 Red Eyed tree frogs from my red-eyed tree frog and harvest mouse workshop. These are amazing very small frogs, only a half-inch in length. This is an amazing opportunity to get some really excellent images of these and the other animals on this indoor workshop.
If you would like to come along and photograph or film the mice and frogs or check availability, please see details on this link
https://www.wildlife-photography.uk.com/red-eyed-tree-frog-harvest-mouse/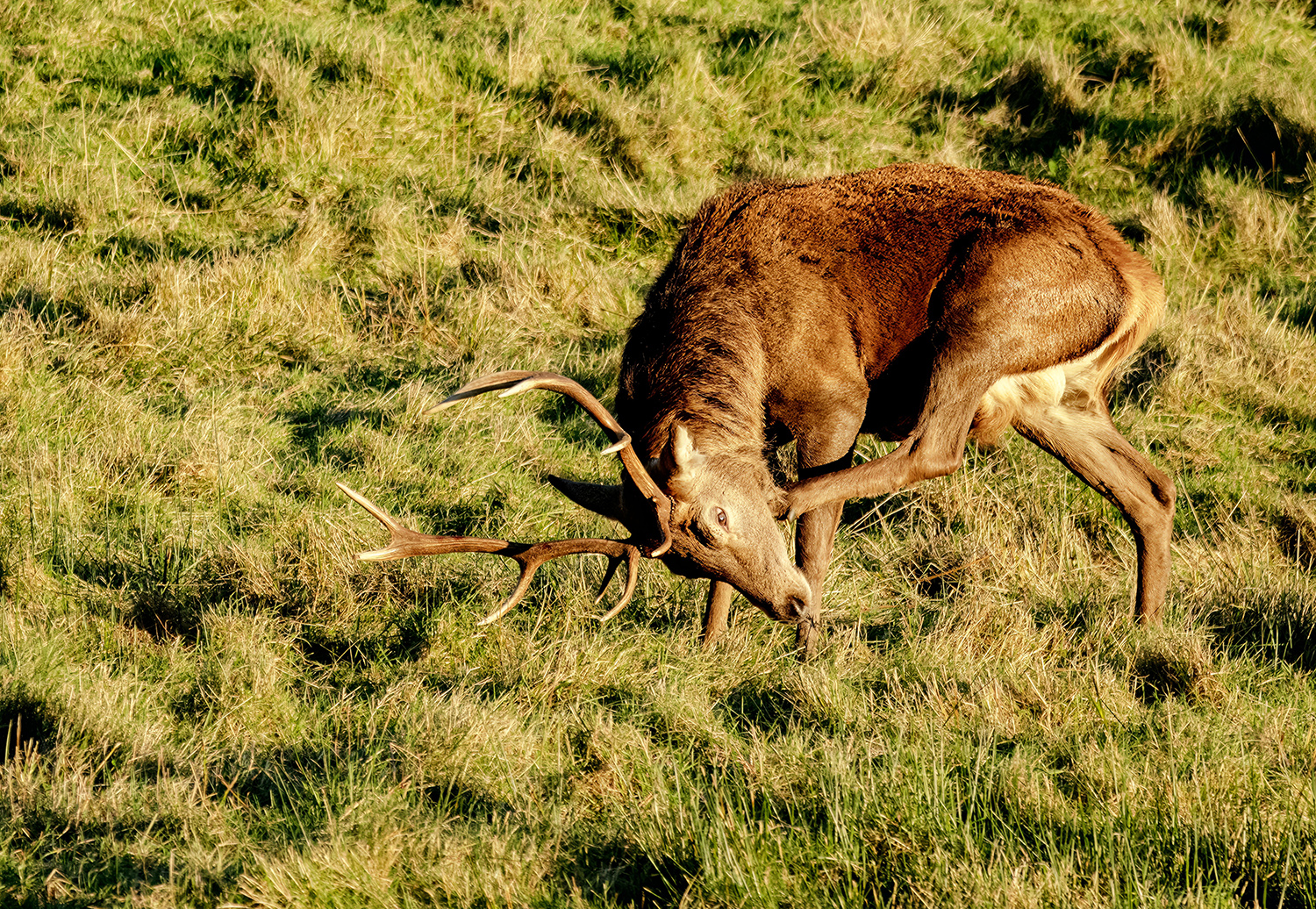 Red deer at Glengalmadale Ardnamurchan on the west coast of Scotland. Glengarmadale is a very remote place on the east coast of the Ardnamurchan peninsular and a place where deer collect in times of poor weather conditions and where they can get reasonable shelter. A great place to photograph these amazing deer in this very quiet and picturesque part of Scotland.
Male Siskin, taken just as the sun hits the perch but not the background and gives a rich tone to the background. It's not a sight you will see every day and when you do you need to react swiftly to get the image of the bird should it land on the perch in time. The image was taken with my Olympus OM1 using pro capture to catch the bird in flight.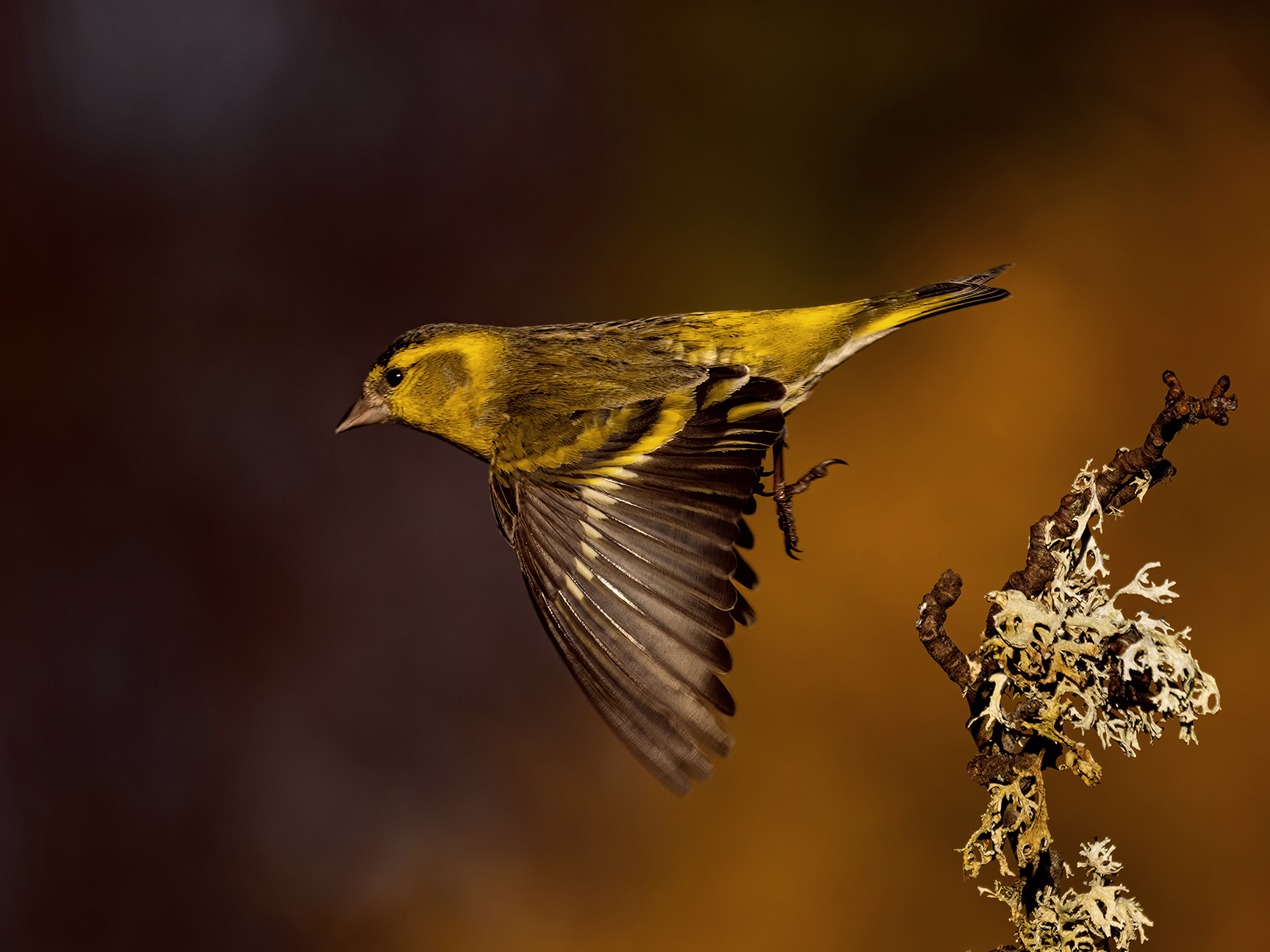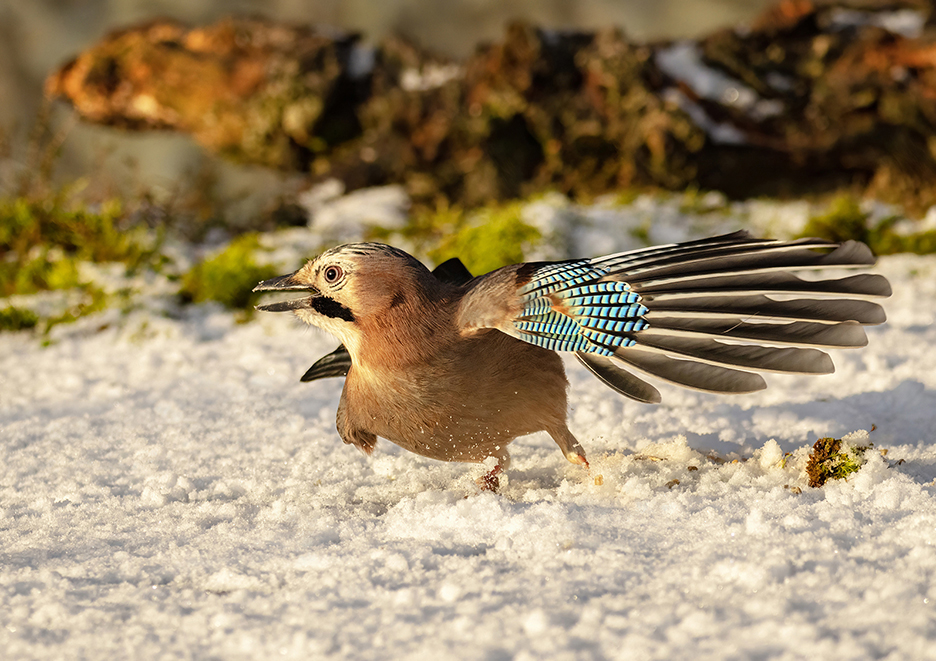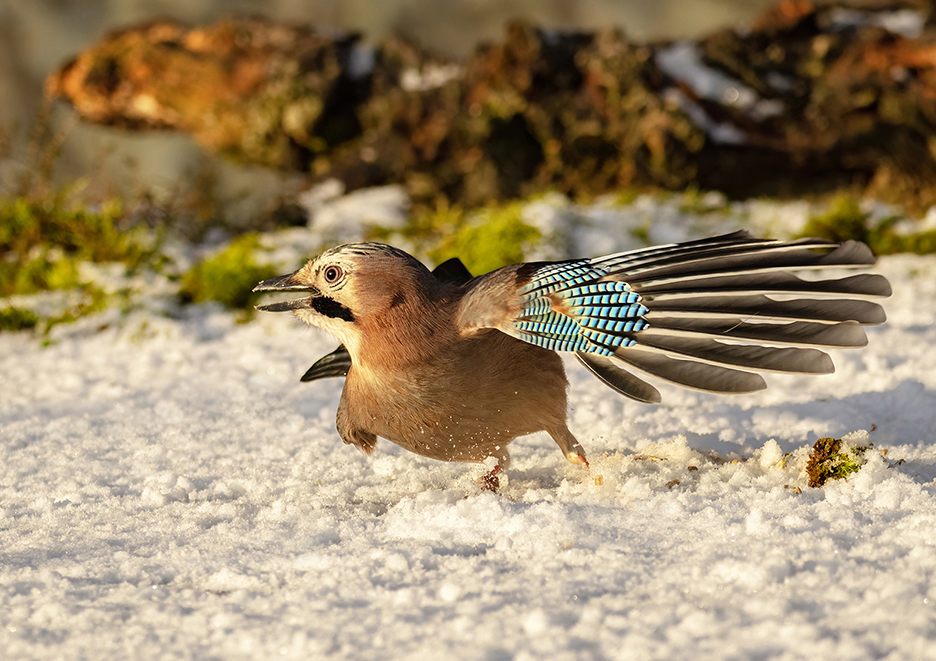 Eurasian Jay at the woodland bird hide during the snowfall we had just before Christmas, the snow was here for three days and gave another dimension to my photography as snow is a rare commodity here in the central Borders.m The extreme weather makes animals behave in an extreme manner. The jay was looking for food in the snow and was moving quite dramatically trying to find it.
Juvenile Long-eared Owl from my Bird of Prey Workshop in July 2022. this owl at the time was just eight weeks old, it has uncommon markings out of the norm, beautiful face markings and white chin markings, an absolutely stunning bird and one of which I am very pleased to have taken this image of.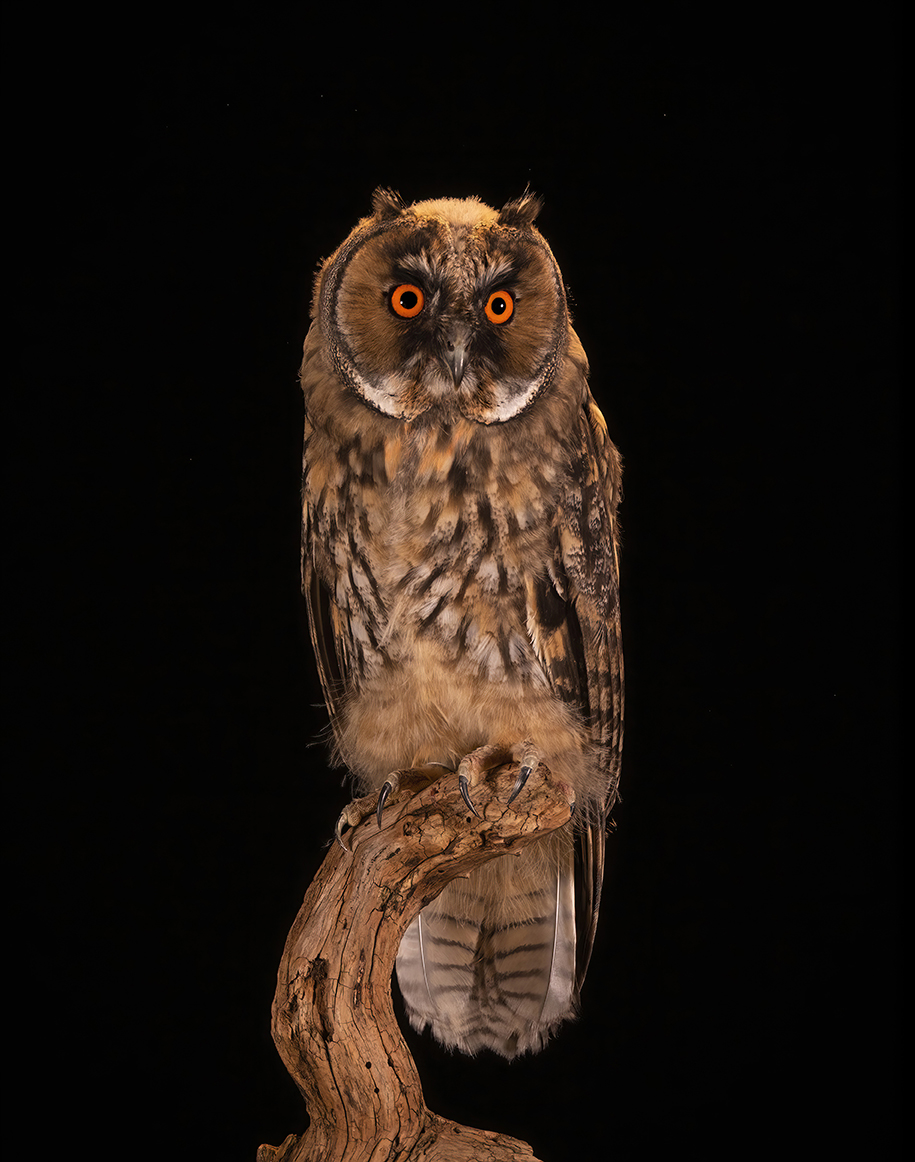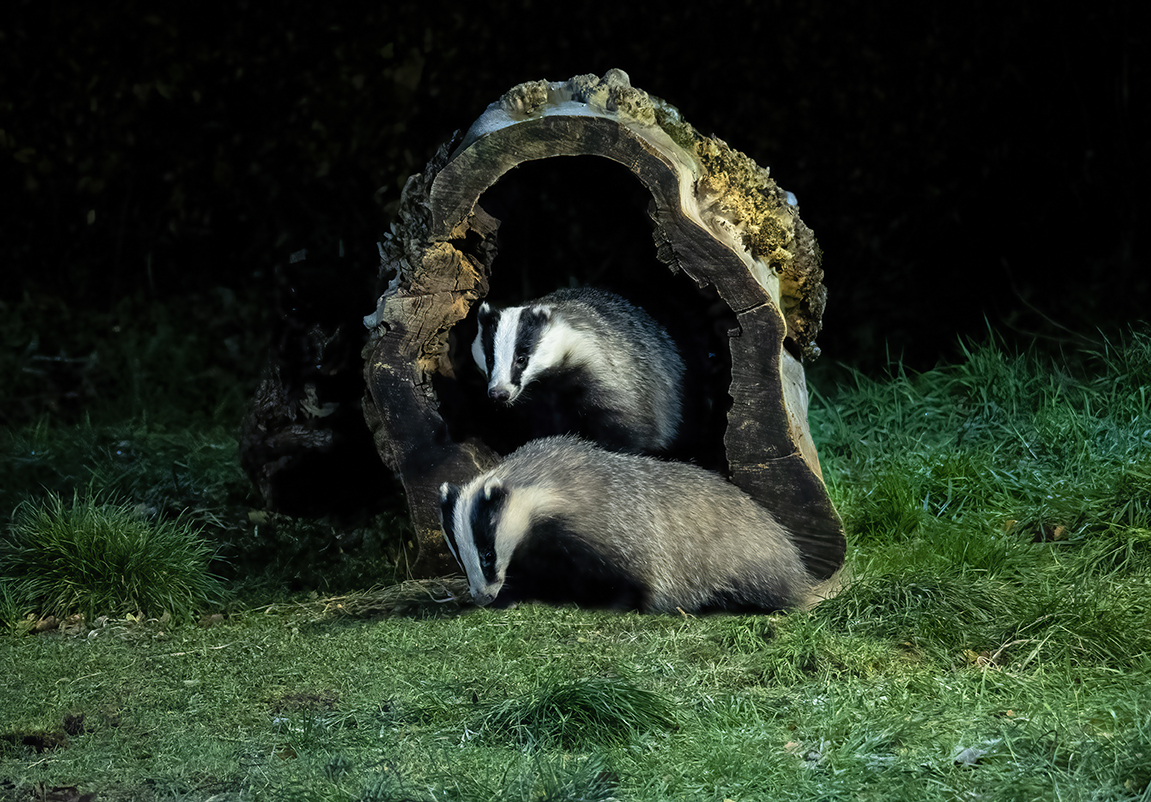 I have been remodelling the badger hide area this last four weeks with the help of Andy Howey.
We added a large hollow log and a reflection pool. 
Here is the first image of the badgers finally coming in and using the log.
Barn Owl in flight from my  Birds of Prey workshop is an indoor workshop and gives a great opportunity to get amazing pictures of the birds in flight. The barn owl is an amazing bird, and to be able to get images of it in flight is equally amazing. This is difficult photography as the birds are photographed under lights.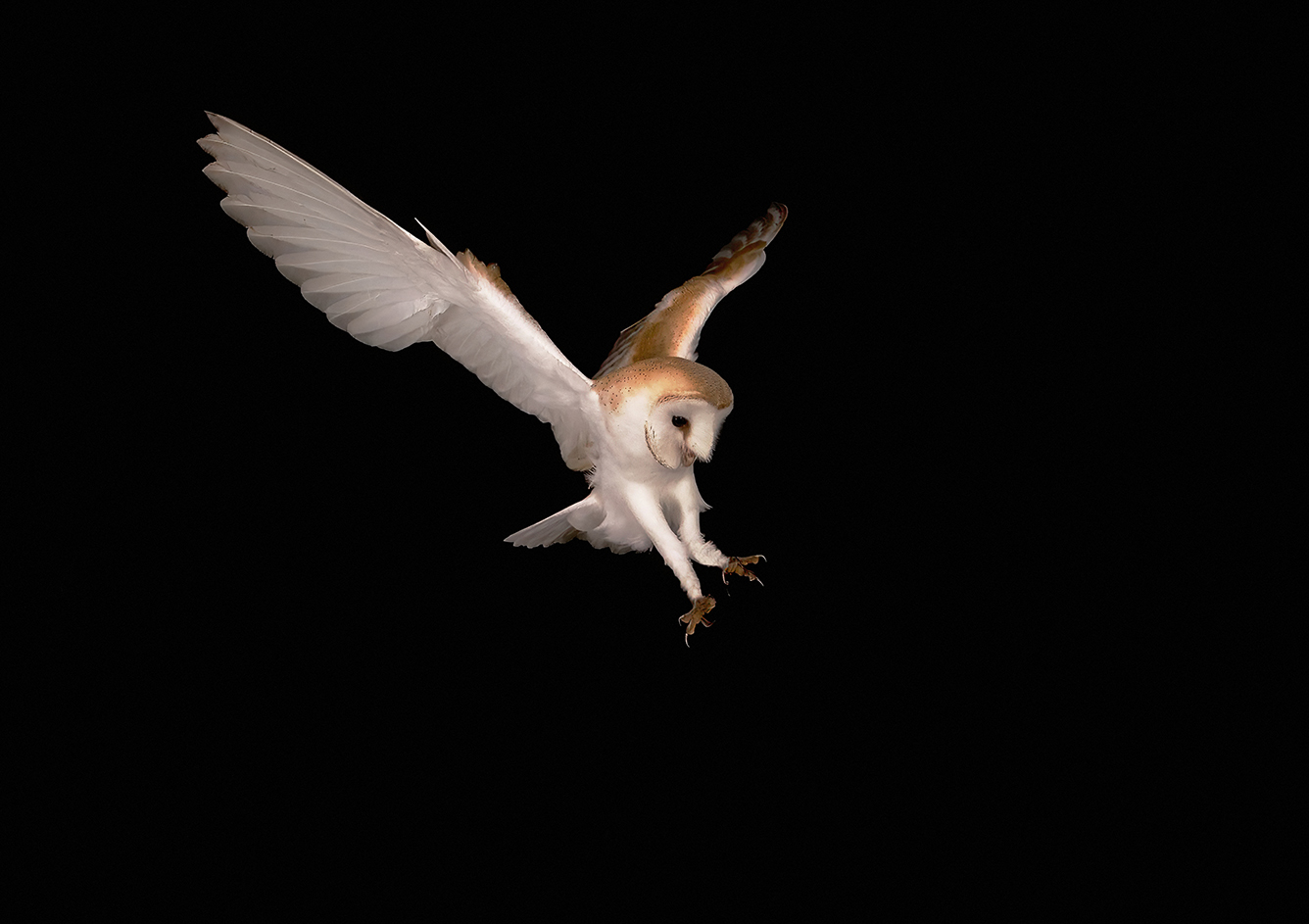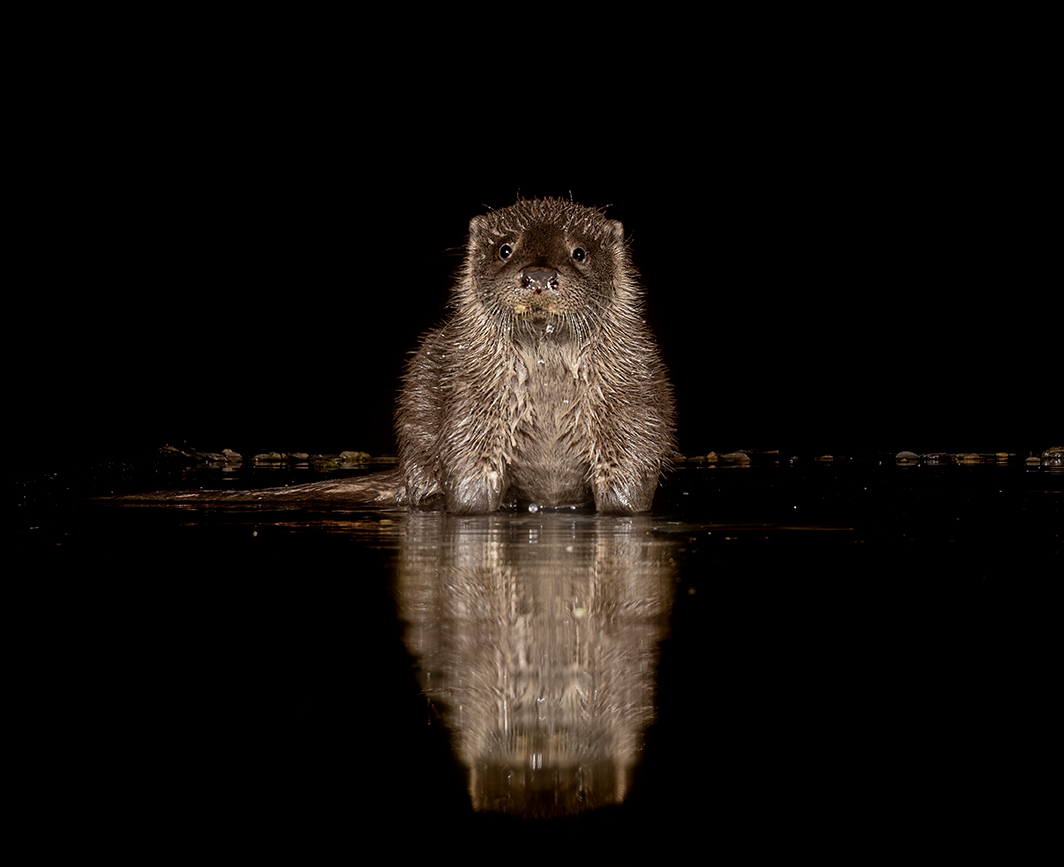 Eurasian Otter cub visited without its mother and sibling, I do like it when we have eye contact with the otters this youngster was again photographed at night on the River Tarff in Dumfries and Galloway. Taken in the early evening. Photographed with flash units very close.
Eurasian Otter with fish, photographed at night on the River Tarff in Dumfries and Galloway. This individual performed very well for me during the session. Photographed with flash units breathtakingly close.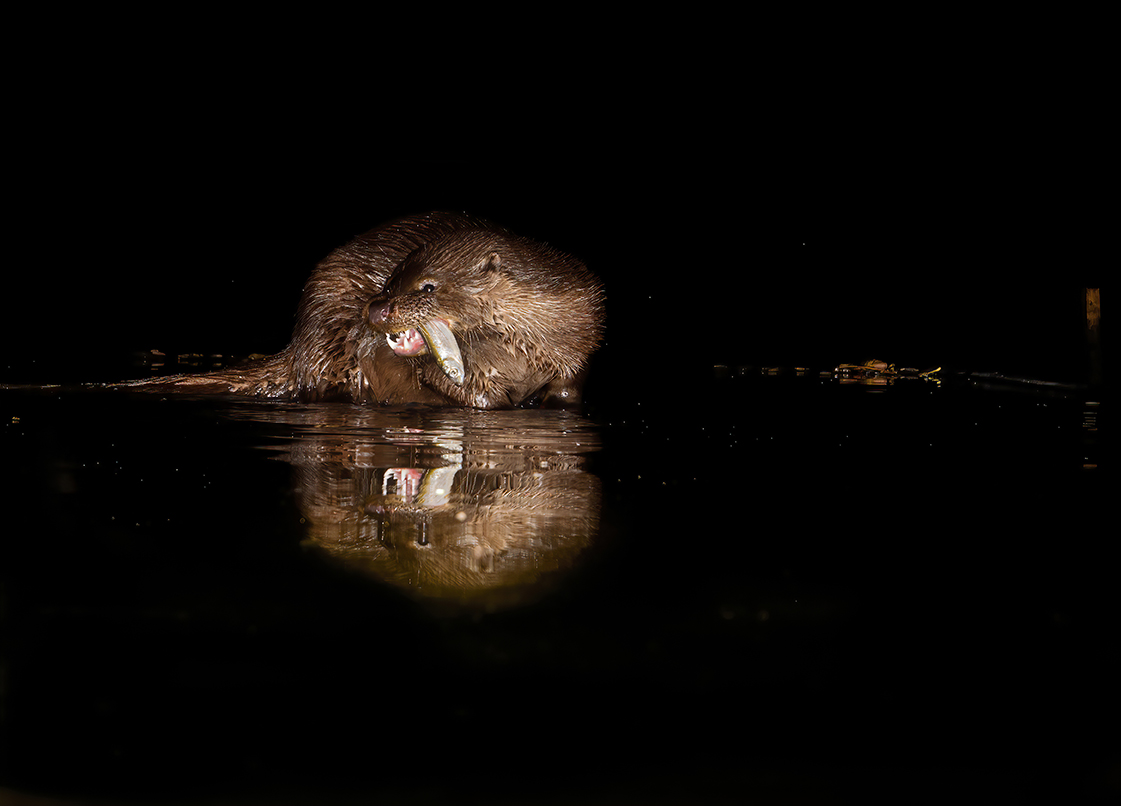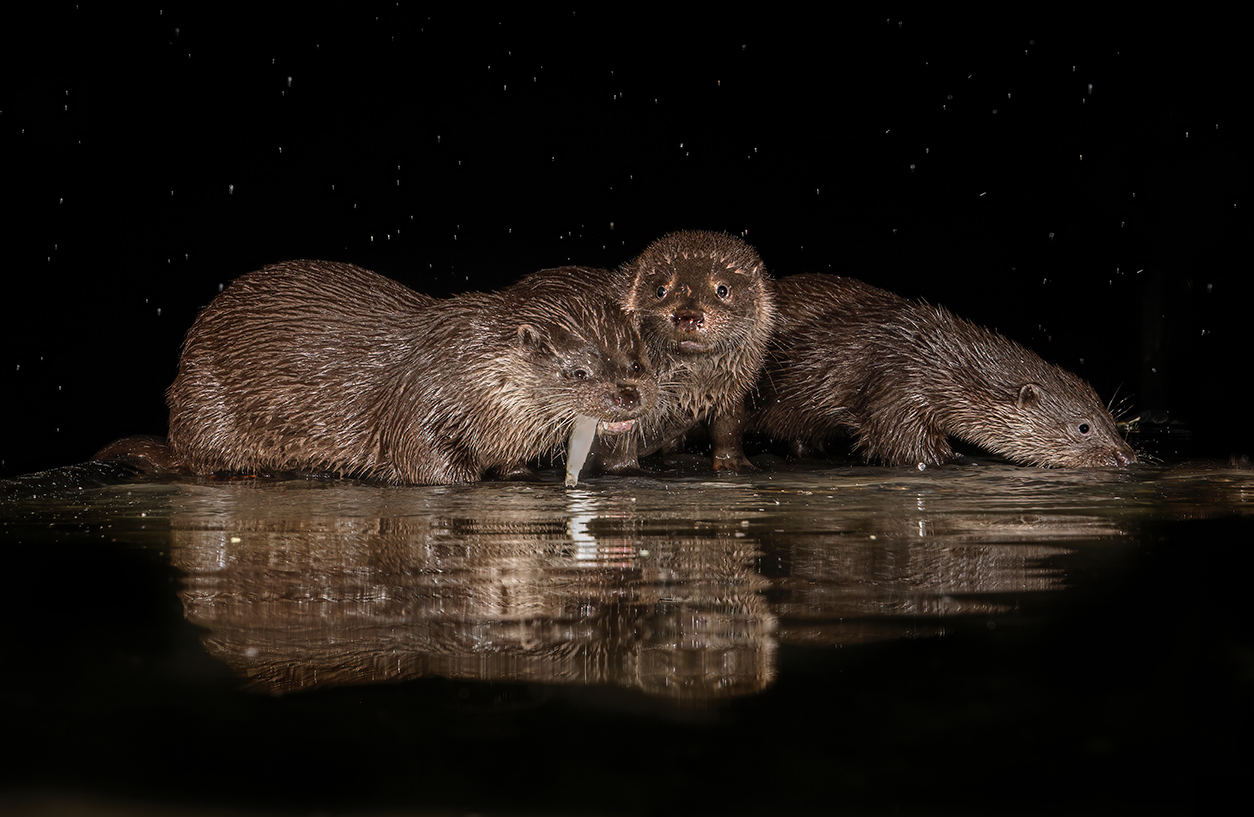 Eurasian Otters photographed at night on the River Tarff in Dumfries and Galloway. This mother and two cubs obliged me very well in the late evening. Photographed with flash units breathtakingly close. 
This is an image from my workshop, Harvest Mice and Red-eyed Tree frog, This is an image of captive mice, and as an image, I find it pleasing to the way it shows the playful nature of the mice and delicate lighting of the subject matter. Bluebells are used as they are the flower blooming at the time of the workshop.
All in all a pleasing images of these beautiful animals
Click on the image to see the workshop
Goldfinch, these birds are in breeding plumage at present and look stunning, they are also very aggressive quite often attacking other birds close by. This bird flew in with great speed and chased a couple of birds off the wooden post displaying great aggression and determination.
May 5th 2021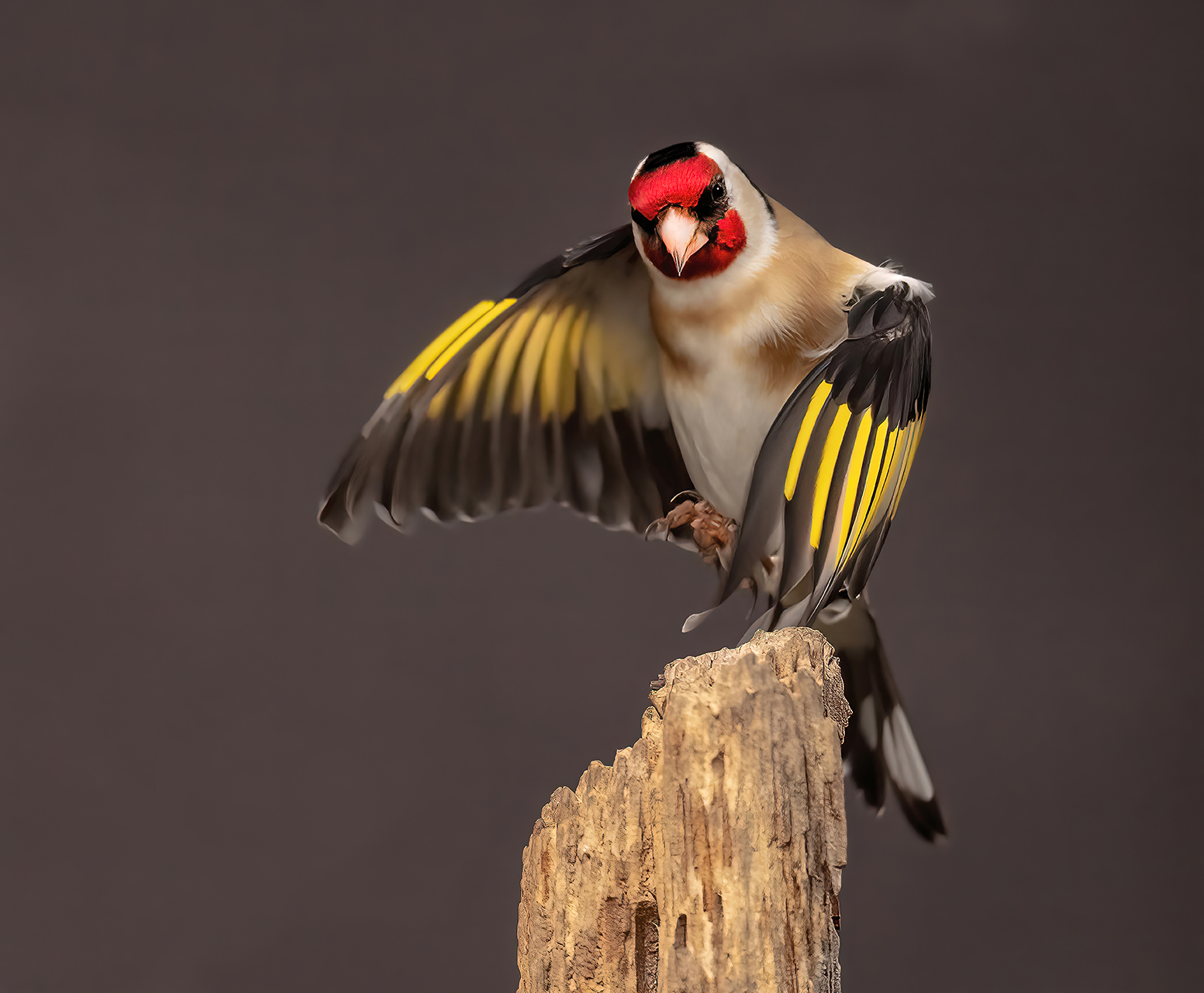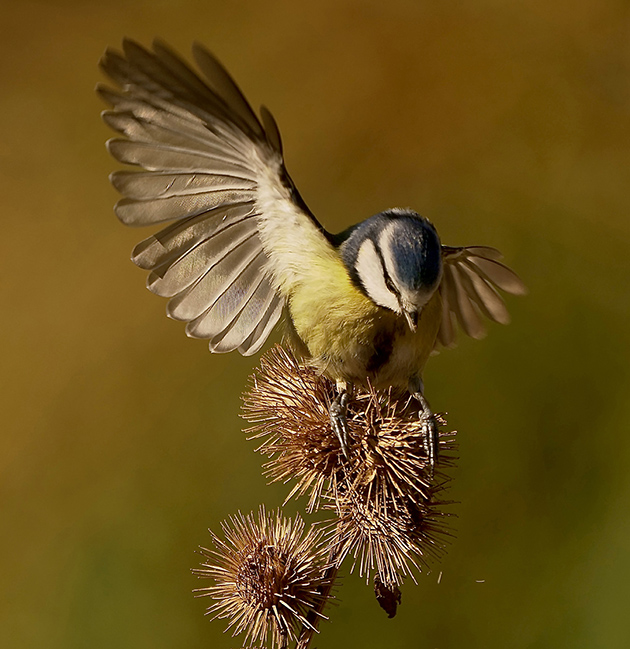 The blue tit is a regular visitor to my garden and provides great opportunities to get some really good images of these gregarious little birds. They are very industrious particularly when the eggs have hatched and the young need feeding their search for food is vigorous and relentless.
This is the image of the pine marten jumping head on towards the camera lens. It's quite a difficult image to get an I am running an advance pine marten workshop to get this image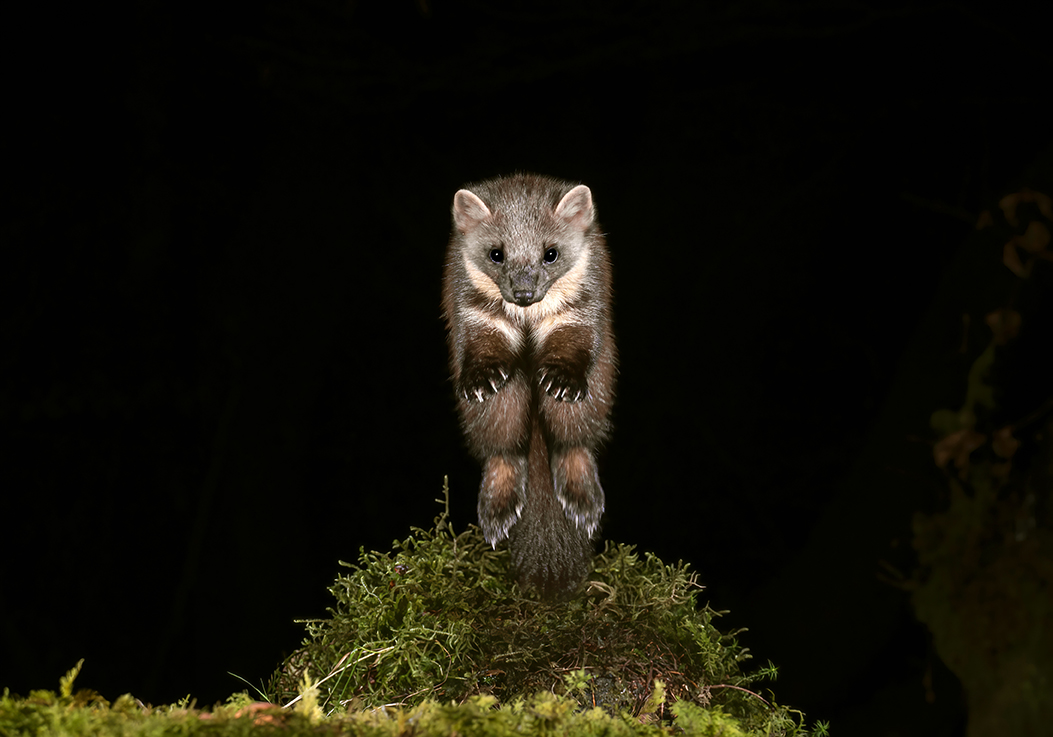 Pine Marten 
Martes martes  
Jumping head-on, this is the second image from the same session as the previous image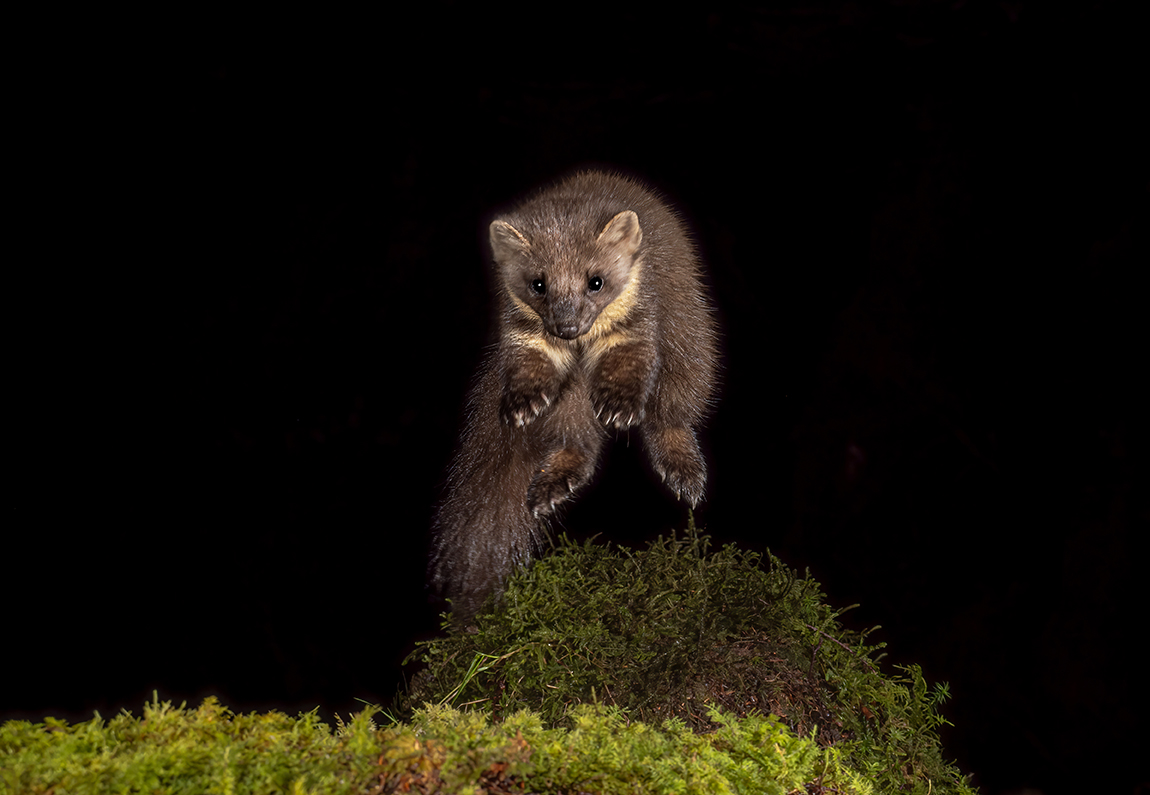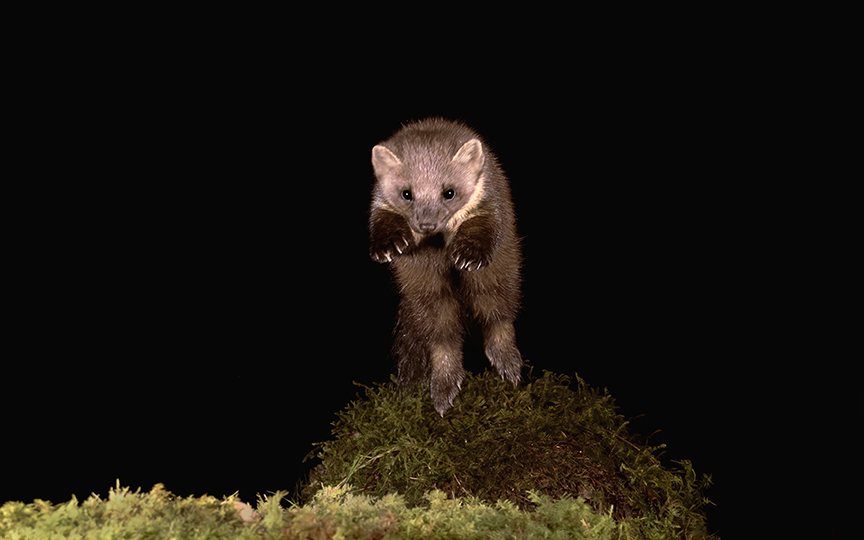 Pine Martens
Martes martes  
Jumping head-on.
This is a very difficult shot to get. I gave been trying for a while to get this image. I am pleased I finally managed it. There's lots of scope for missing the picture with remote flash triggers and remote shutter release and trial and error on timing. The end results are worth it
This image of a badger is similar to the one below. This is the image I wanted, the badger feeding, backlit and in the rain. I went to the site near Kirkcudbright several times, but in an area which has more than its fair share of rain, it never rained when I was there until my last visit a few days ago, when after sitting in the hide for four hours in the pitch black with the rain pouring down this badger showed itself much to my relief I managed the picture I had wanted for quite a few months, the badger on the reflection pool in the rain backlit. amen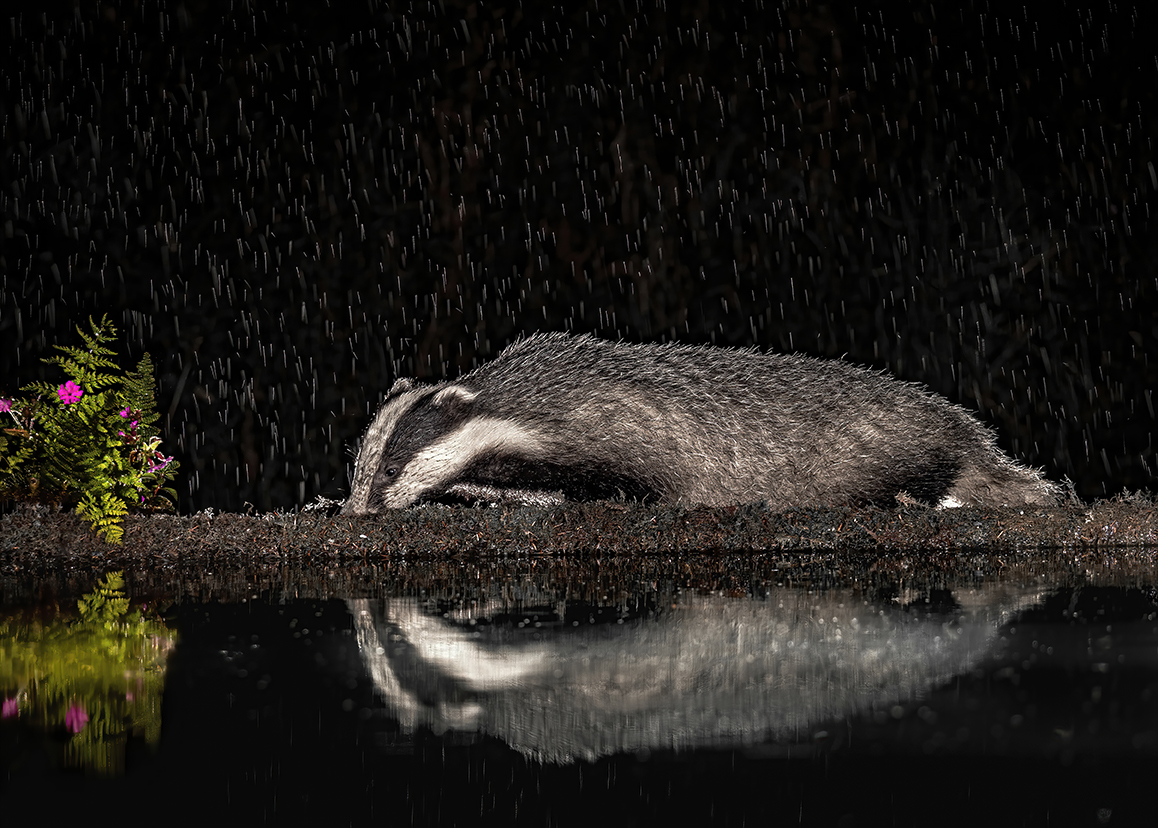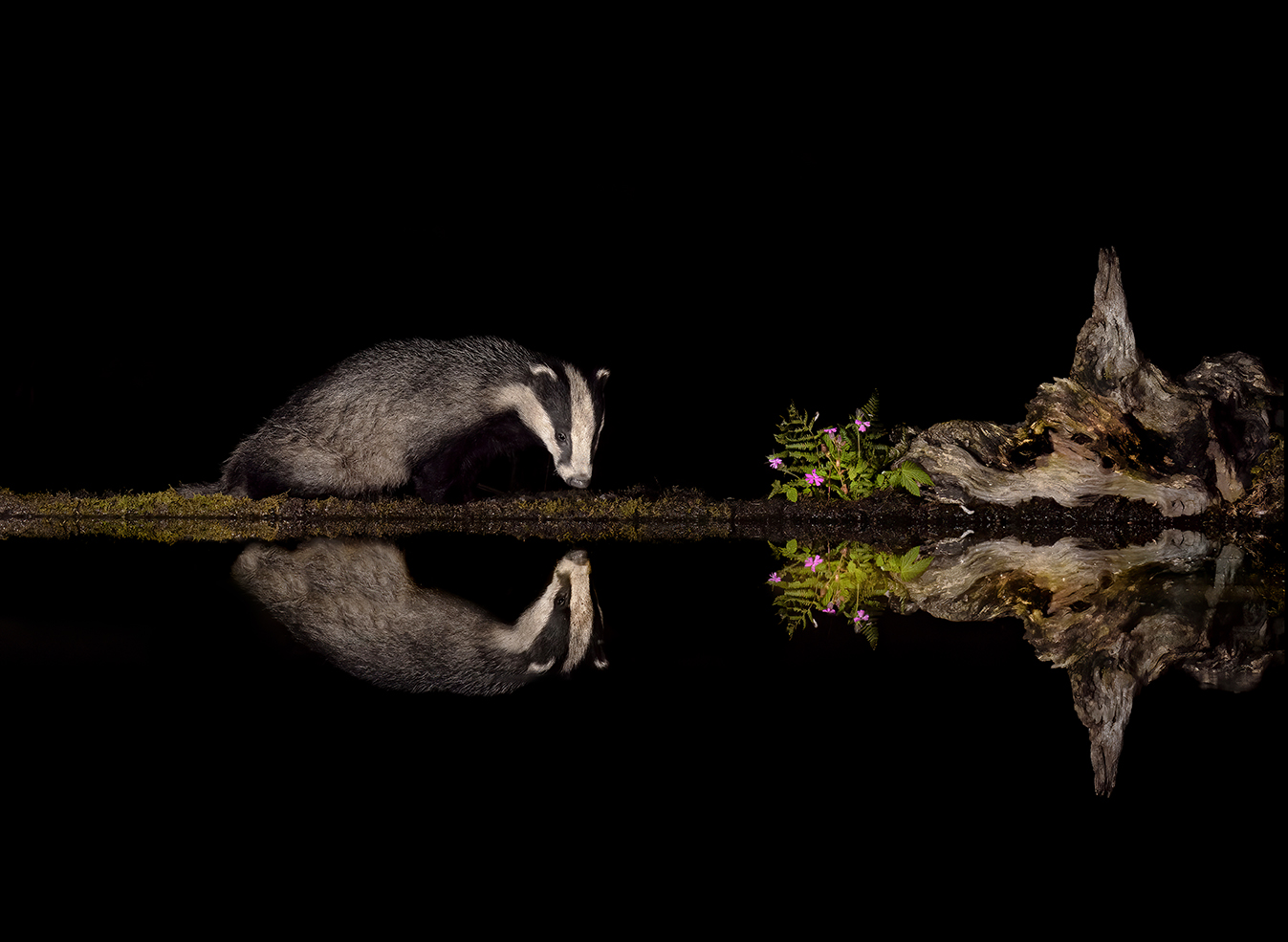 Eurasian Badger on a reflection pool, an image i have been wanting for a long time.
I finally managed it with the help of old mate Alan Mcfadyen in Kircudbright
Bass Rock from the clifftops of East Lothian on the east coast of Scotland.
Taken in winter (no gannets on the rock) at a windy time of year
A fine art image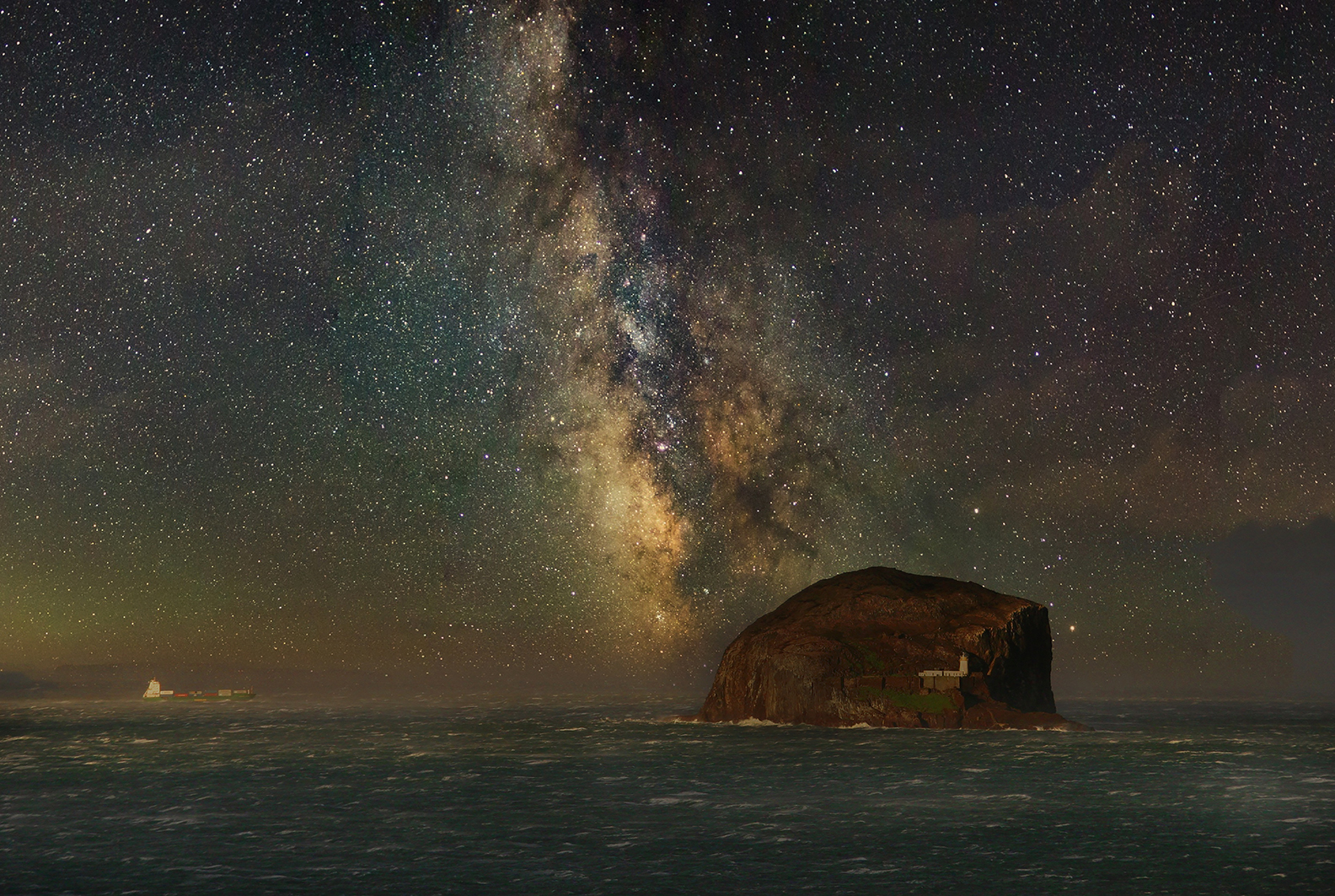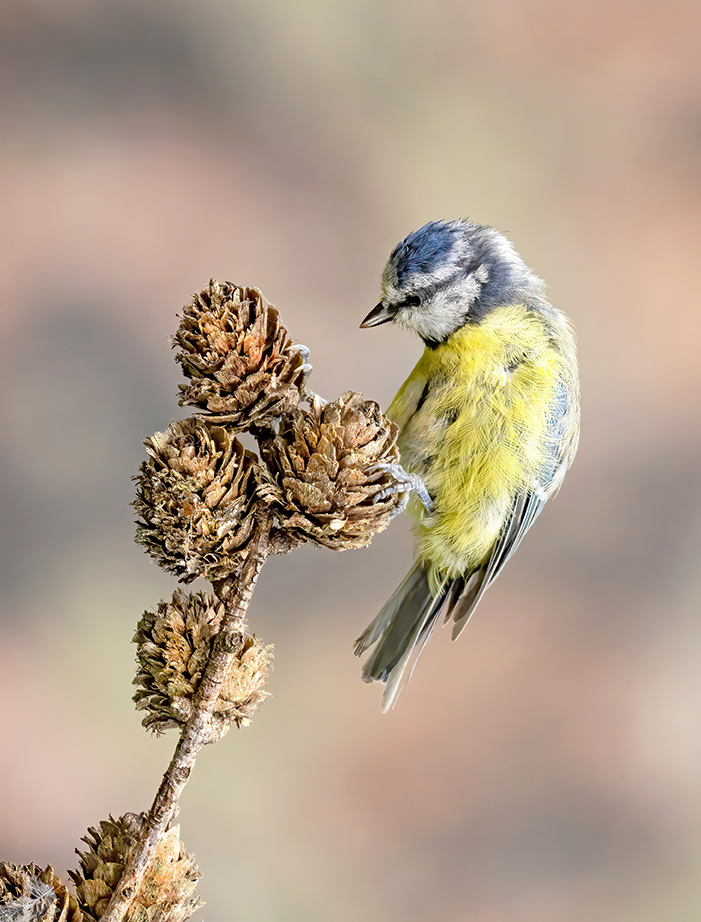 Blue Tit
Woodland BIrd Hide Scottish Borders
I get just as much pleasure from photographing the local common species at home. The blue tit is great little bird very industrious, great parent rearing many young at once and usually having a second brood if the food in good supply.
For more blue tit images click this

link
Vervet Monkey
Kruger National Park Africa
The vervet monkey I think is my favourite monkey in Africa. They are very attractive and very mischievous. They are quite common in the Kruger National Park I came across them almost everywhere I went.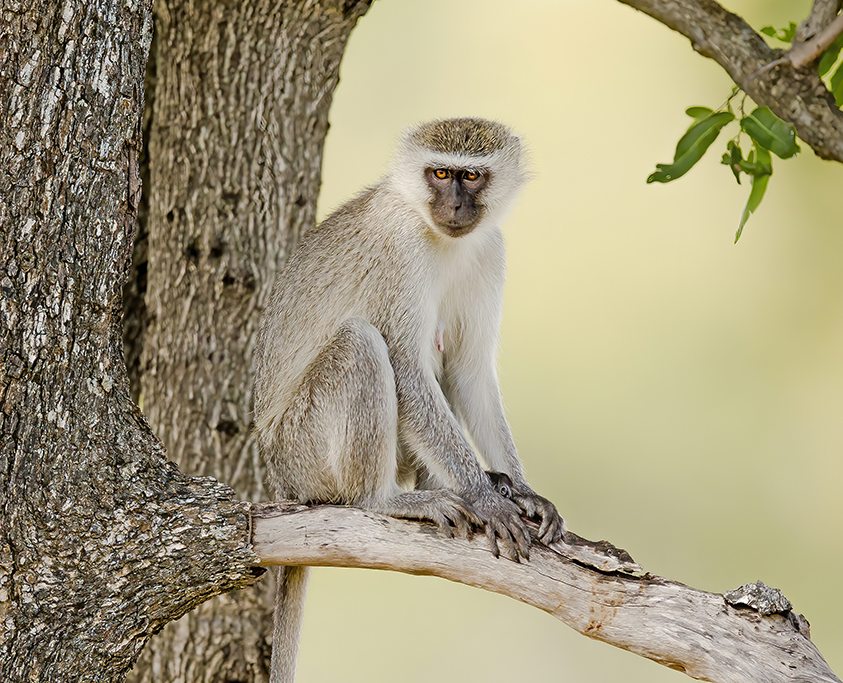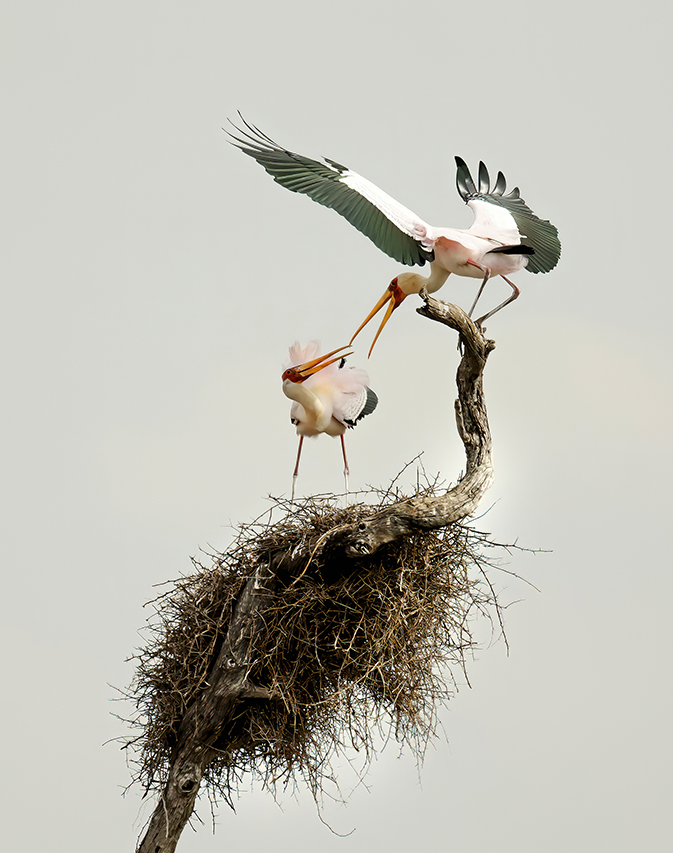 Yellow-Billed Stork
Kruger National Park South Africa
Yellow-billed storks at their nest site having a disagreement on who should be tidying the nest. I'm quite pleased with this image.
The nest was 200 yards away and the picture was taken out of the window of the vehicle on a bean bag, with a focal length of 1200 mm at f8 and a shutter speed of 1/2500 sec.
Lilac Breasted Roller
Kruger National Park – South Africa
This is one of the wonderfully coloured birds that the African continent has n abundance. Thus the amazingly coloured bird is quite a common sight in Africa in general, but the Kruger National Park in particular. They feed on crickets, locusts and invertebrates and are often found perched on dead trees and tops of bushes.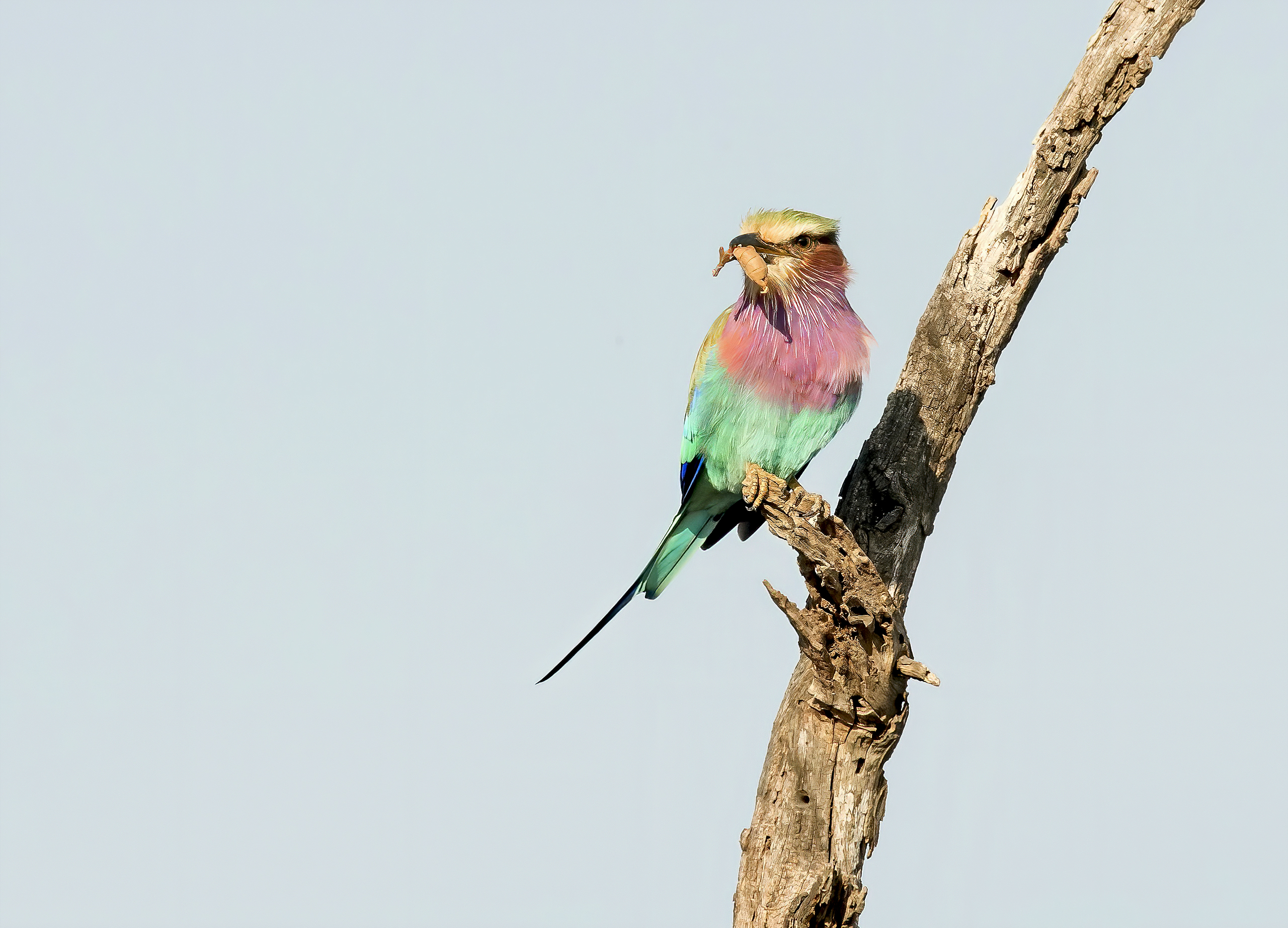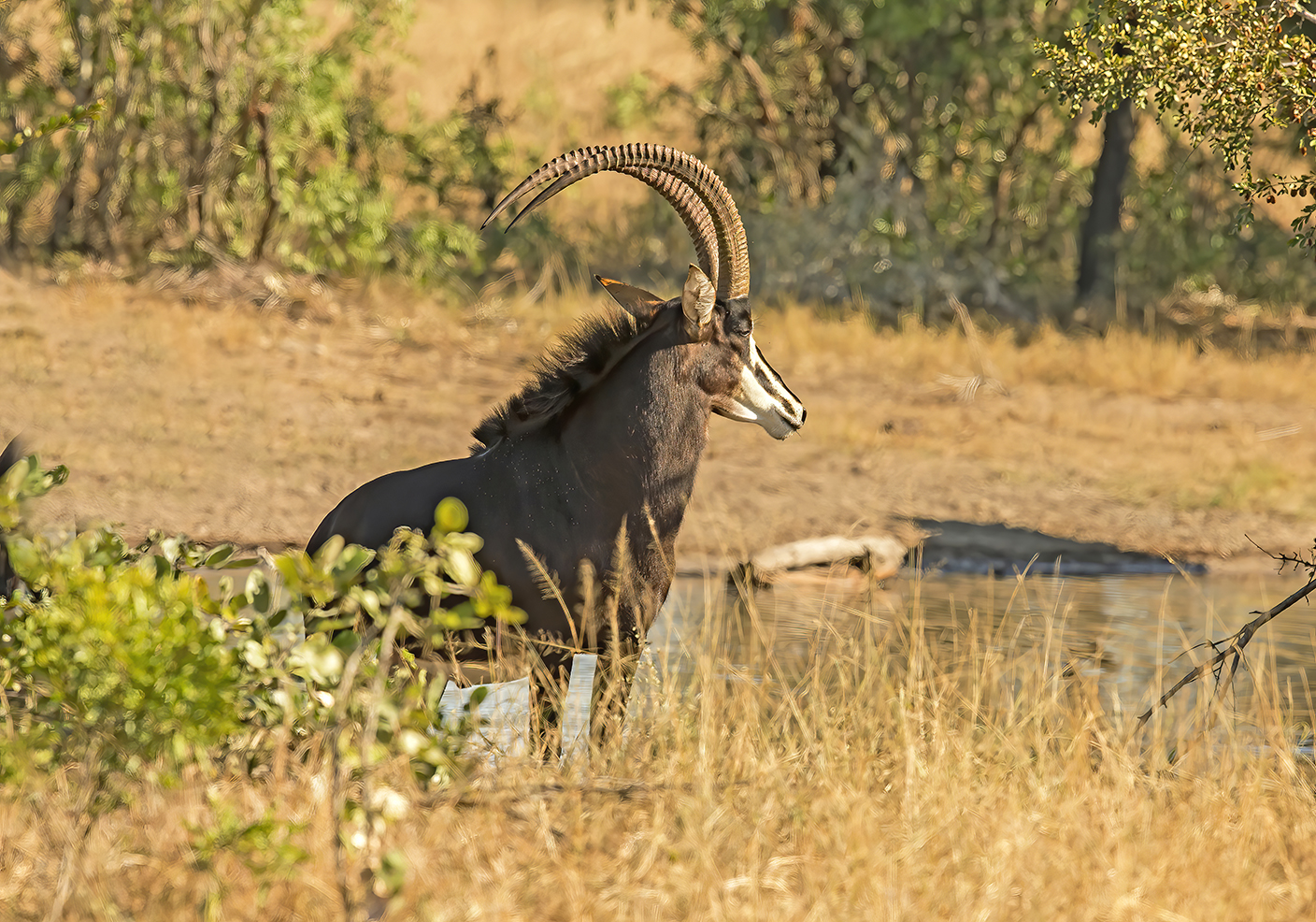 Sable
Kruger National Park. South Africa.
The sable is one of the antelope family and quite a thing to see. They are quite a rarity these days, and this one caused a bit of a stir amongst the locals and visitors alike when it appeared. I am very pleased to have taken this picture as it was one of my target species for the trip and one I thought I might struggle to get.
Spotted Hyena
Kruger National Park, South Africa
The spotted hyena is one of the most common mammals in Africa, some times difficult to see depending terrain, but in the bushveld of the Kruger National Park, they just appear from nowhere, which makes it a very dangerous animal indeed.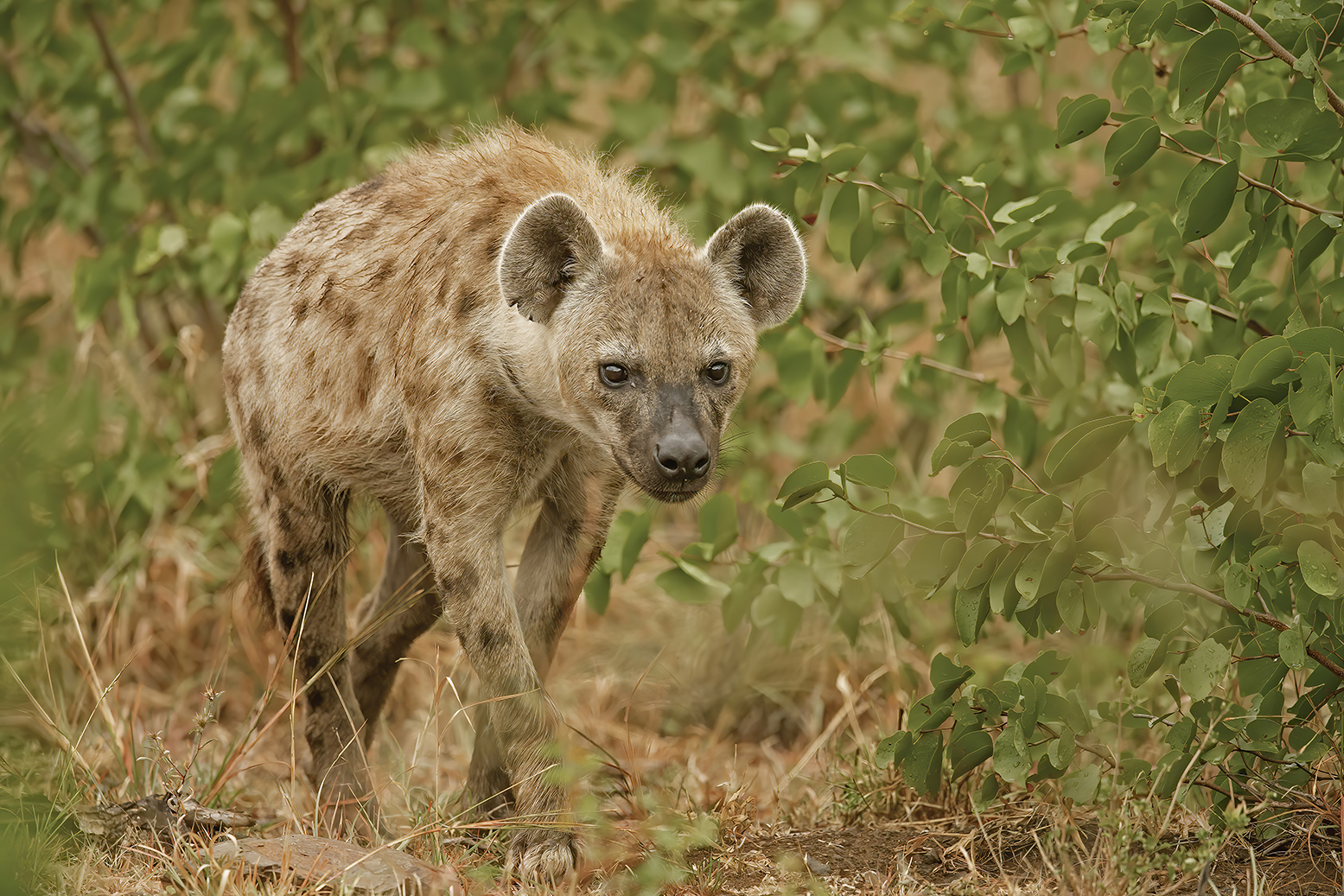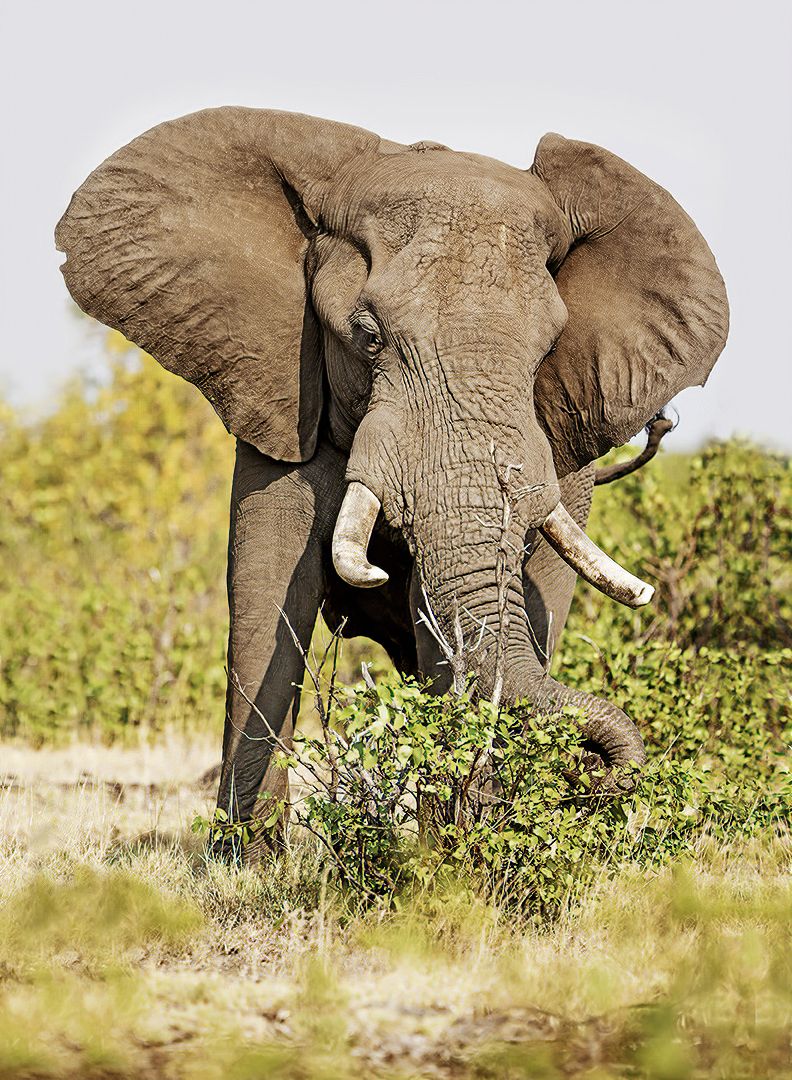 African Elephant
Taken in Kruger National Park South Africa.
We got too close to this large male elephant and it gave us a false charge just to warn us off. We didn't need a second warning! Just behind him and out of sight from us in the bushes were a group of fifteen elephants with young ones, that's why he got a little excited
African Brown Snake Eagle
Kruger National Park South Africa
Taken in the Kruger National Park South Africa. A very striking eagle, it sits on the very top of available trees looking for food, snakes and lizards etc. then swoops down to finds its prey.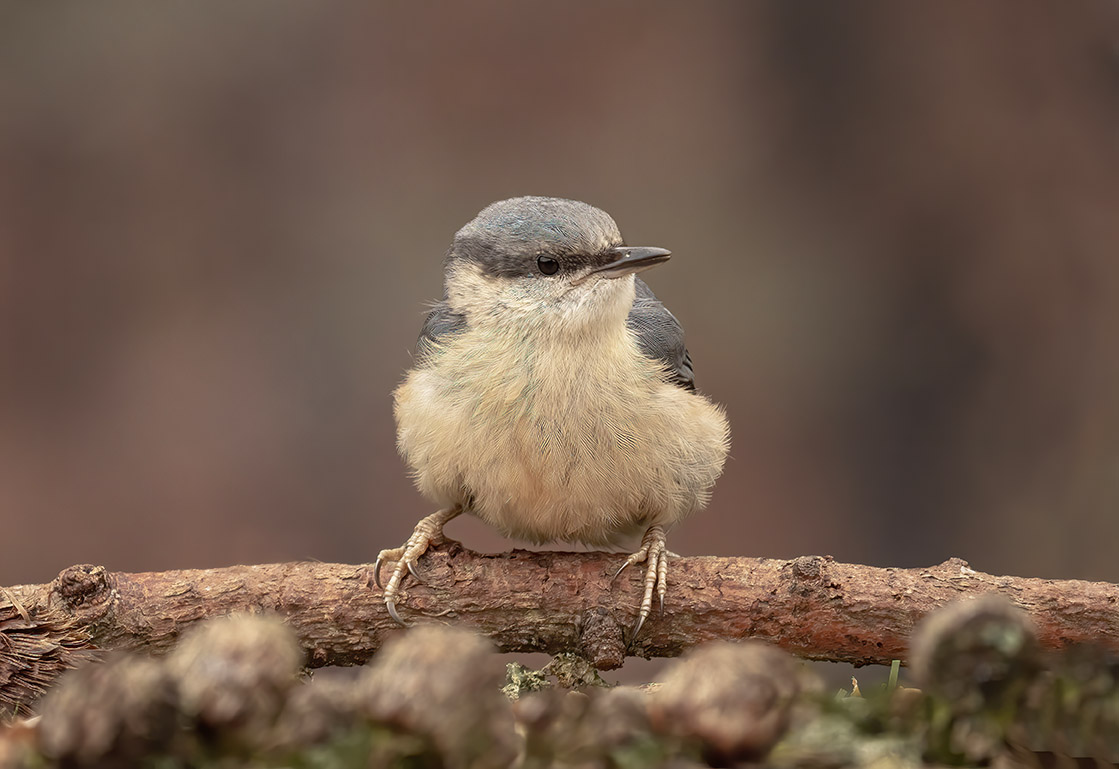 Eurasian Nuthatch, juvenile
This is a juvenile nuthatch taken at my woodland bird hide near Hawick in the Scottish Borders.
The adult bird has a very pointed beak, the juvenile is softer and more rounded, probably not long out of the nest it will elongate quite quickly now it is feeding itself.
Red Deer
This image is from the Scottish Highlands near Braemar. There had been a lot of snowfall overnight and the red deer were driven off the mountains looking for food and found it difficult to find because of the depth of the snow.
Because of this, the red deer will come into the woodlands as the snow is not as deep and forage for food. This red deer stag started to nibble lichens off the tree trunks as he was so hungry. It's an unusual picture to get but I am very pleased I managed it.
Winter is an amazing time in the snowy highlands of Scotland. Wildlife behaves in an extreme manner in extreme conditions and they do unpredictable things which makes Scotland one of the best places to photograph wildlife. Red deer mountain hares, ptarmigan,  golden eagle, pine marten and Scottish wildcat.
What a feast of wildlife to be had.
See more red deer images here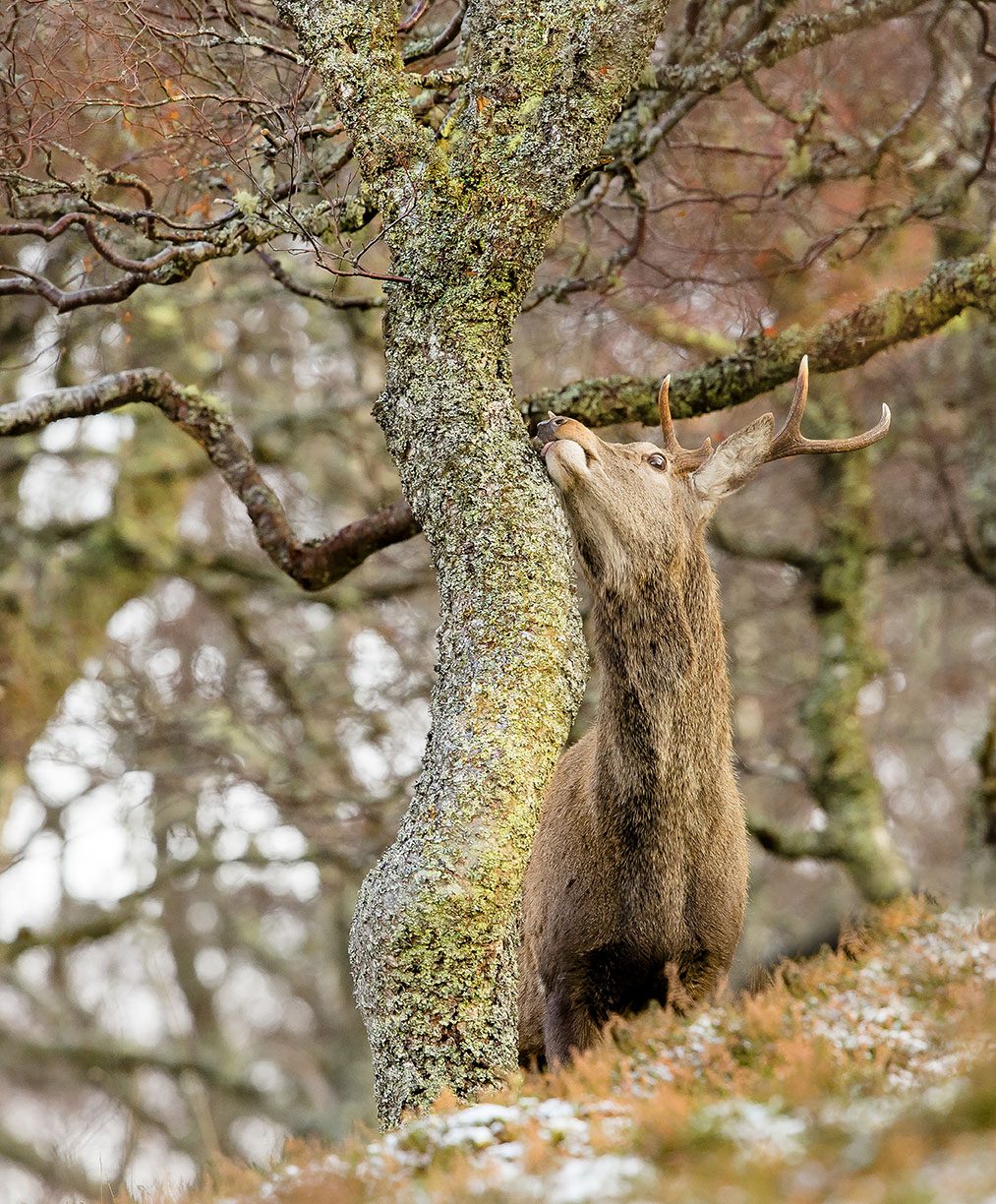 Great Spotted Woodpecker
This is from my woodland bird hide near Hawick in the Scottish Borders. I like to get the more difficult flight shots if the occasion arises, the woodpeckers have had a good breeding season rearing three young woodpeckers all fit and healthy.
All the family come into the hide area to feed regularly giving me the chance to get some images including this one of the female woodpecker in flight.
You can see more images from the woodland bird hide here in this link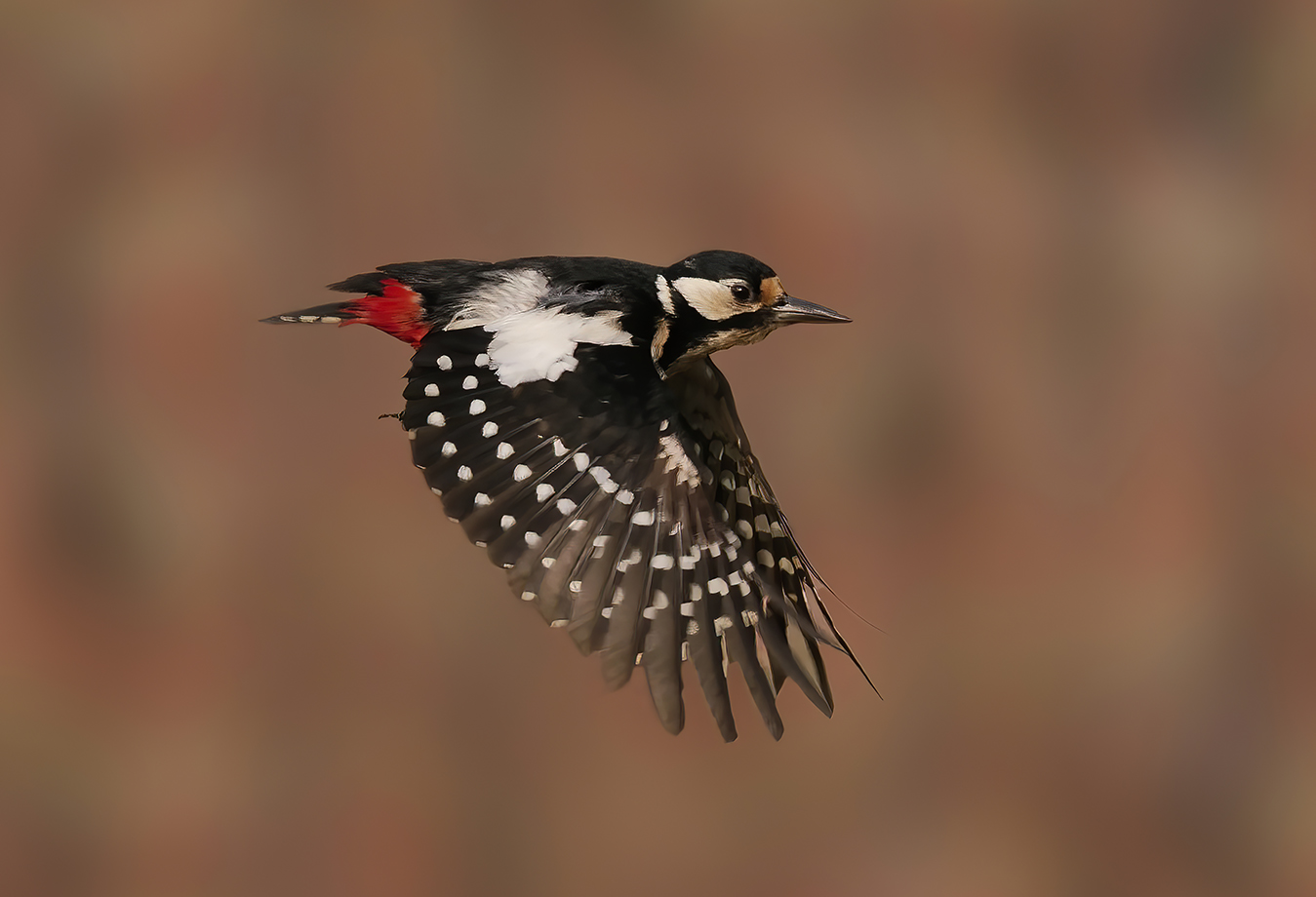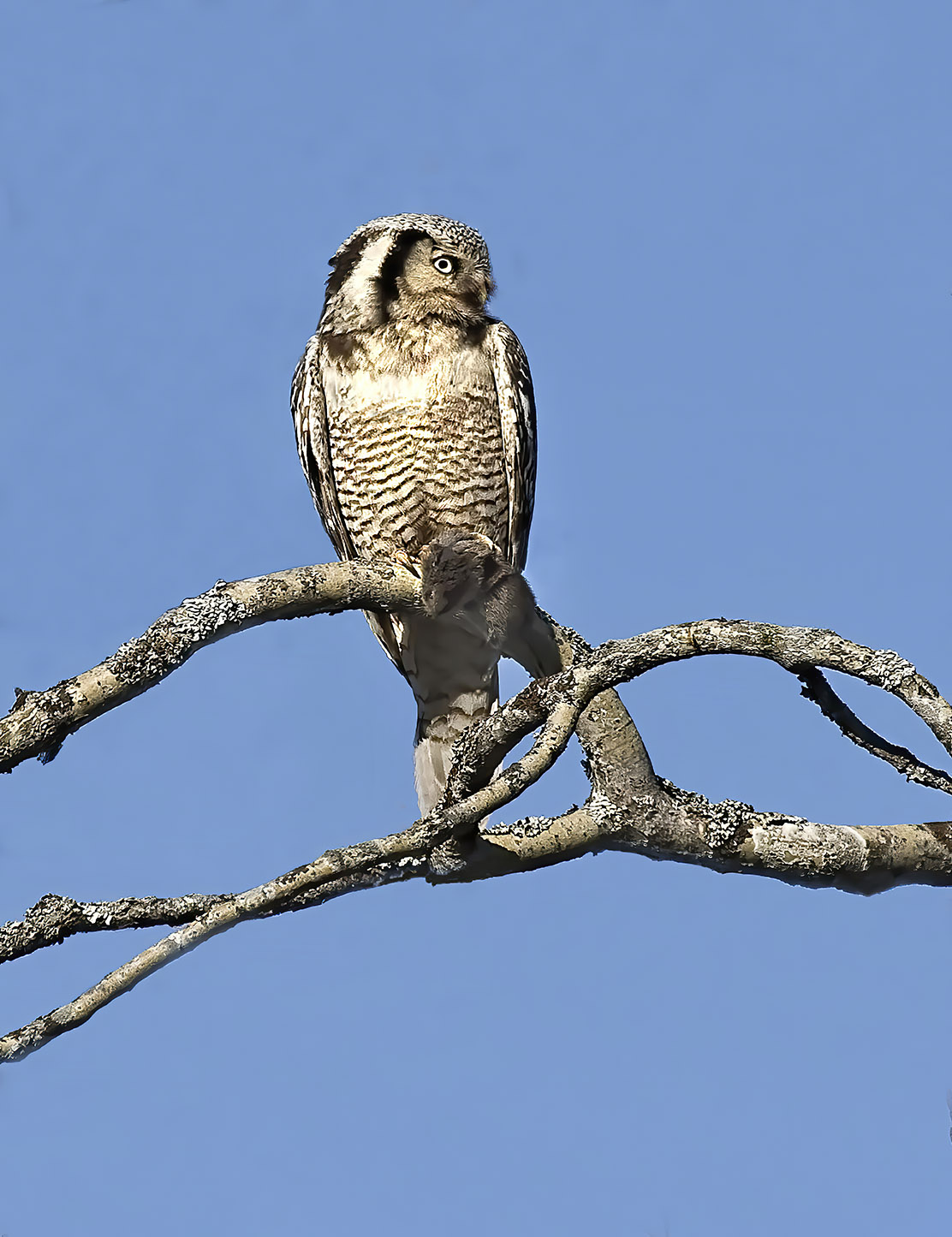 Hawk Owl
This is probably my favourite owl, the hawk owl, taken near Oulu, in Western Finland. The owl has a mouse in its talons, this is to feed the owlets at the nest.
The perch the owl is sitting on is opposite the nest site and the owl uses this every time it comes in to feed it's young. So if you can find a spot like this, you should get better images.
The hawk owl will sit at the very top of the trees and wait until it sees a mouse or other prey then swoops down and picks it up in its talons and takes back to the nest site.
Pine Grossbeak
This is a stunning bird, A male Pine Grosbeak taken in Northern Finland at a place called Kaarmanen, at the Hotel Naljan Tuulen Tupa. It's a hotel that specialises in photographer and bird watchers.
The hotel staff make the most amazing fish soup, after being out in the deep snow, the fish soup is exactly what you need to warm you up. There are a number of pine grosbeaks around the hotel at a feeding station along with other bird species.
It's a great place to start a trip or a stop-off point when travelling into Norway.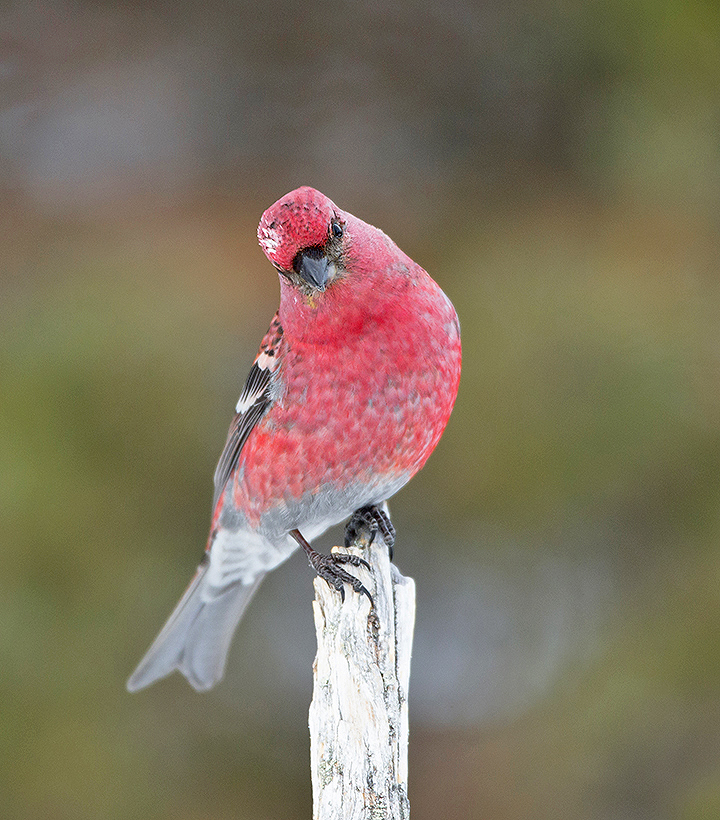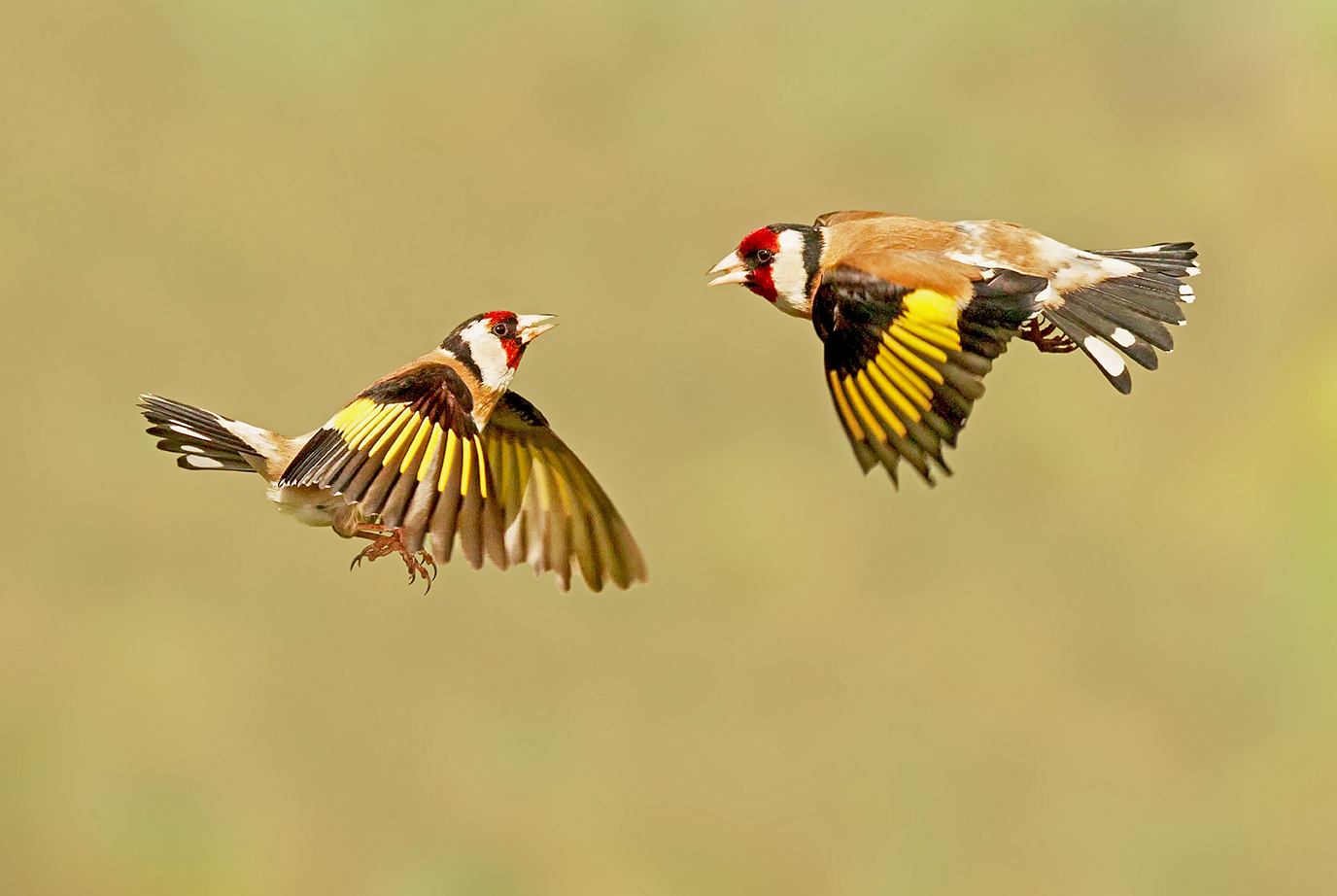 Goldfinch standoff.
Goldfinches are quite an aggressive species of bird. They bully other birds to get at the food, but in particular, they are very aggressive to other goldfinches during this competition for food. It's not the easiest shot to get but possible with patience and determination. 
This was taken at my woodland bird hide here in the Scottish Borders near Hawick.  See details here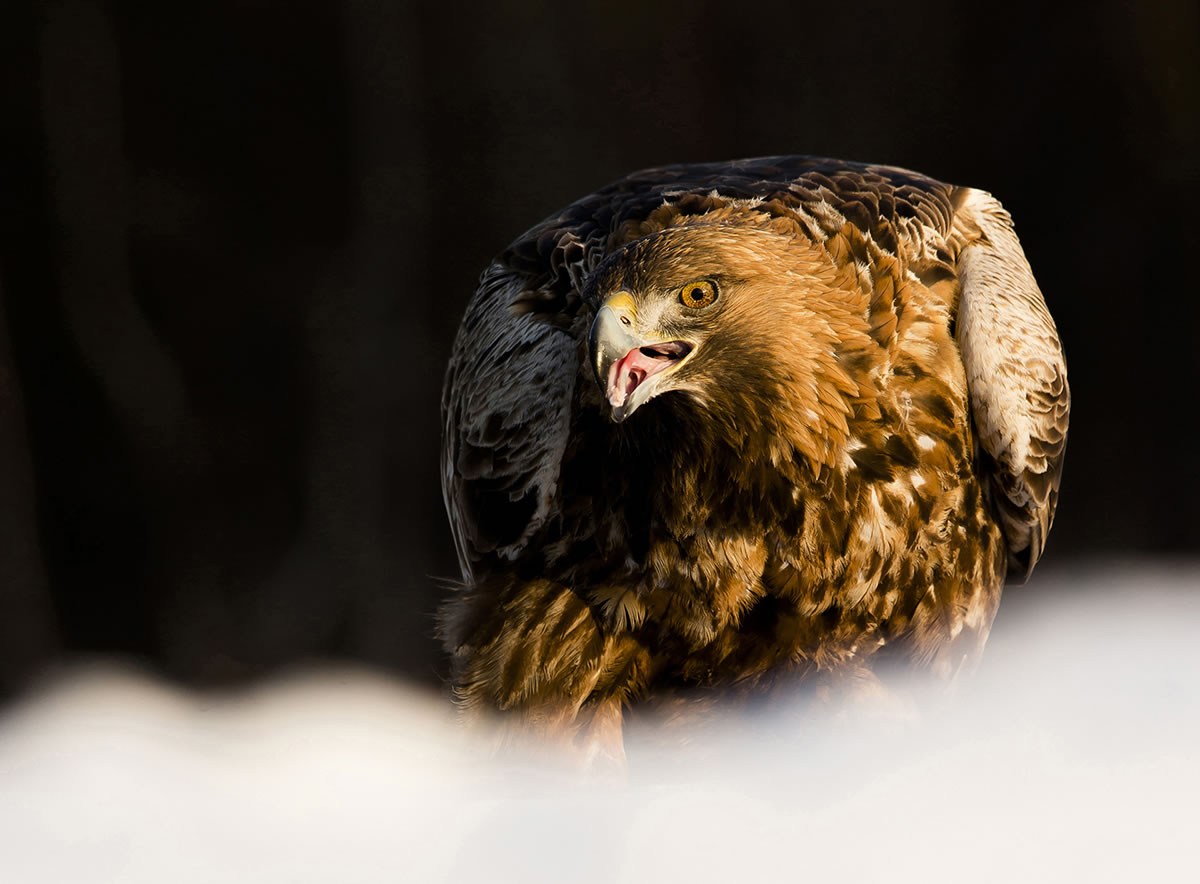 Golden Eagle
This image was taken in Northern Sweden near Kalvtrask, Vasterbotton Lan which is in the Arctic Circle.
I have been travelling to Northern Sweden for many years. The end of the platform where the bird is sitting is seven metres from the camera. There is a piece of meat in the snow. The eagles come down and eat the meat which takes a few minutes, plenty of time to get the picture. I have had this image in my head for 8 years of the eagle being lit up with the late afternoon sun. I have sat there when the bird was feeding but no sun, I have sat there with lots of sunshine and no eagle. Eventually, the plan came together. Patience is a virtue.
More golden eagle images here 
Northern Gannet
Taken on a visit to Bass Rock at nesting time. Quite a tender moment as the adult gannet preens it's young.
It's a great privilege to be able to land on Bass Rock with over 60,000 breeding pairs on the very small island.
It's a great trip well worth the effort
See more gannet images on this link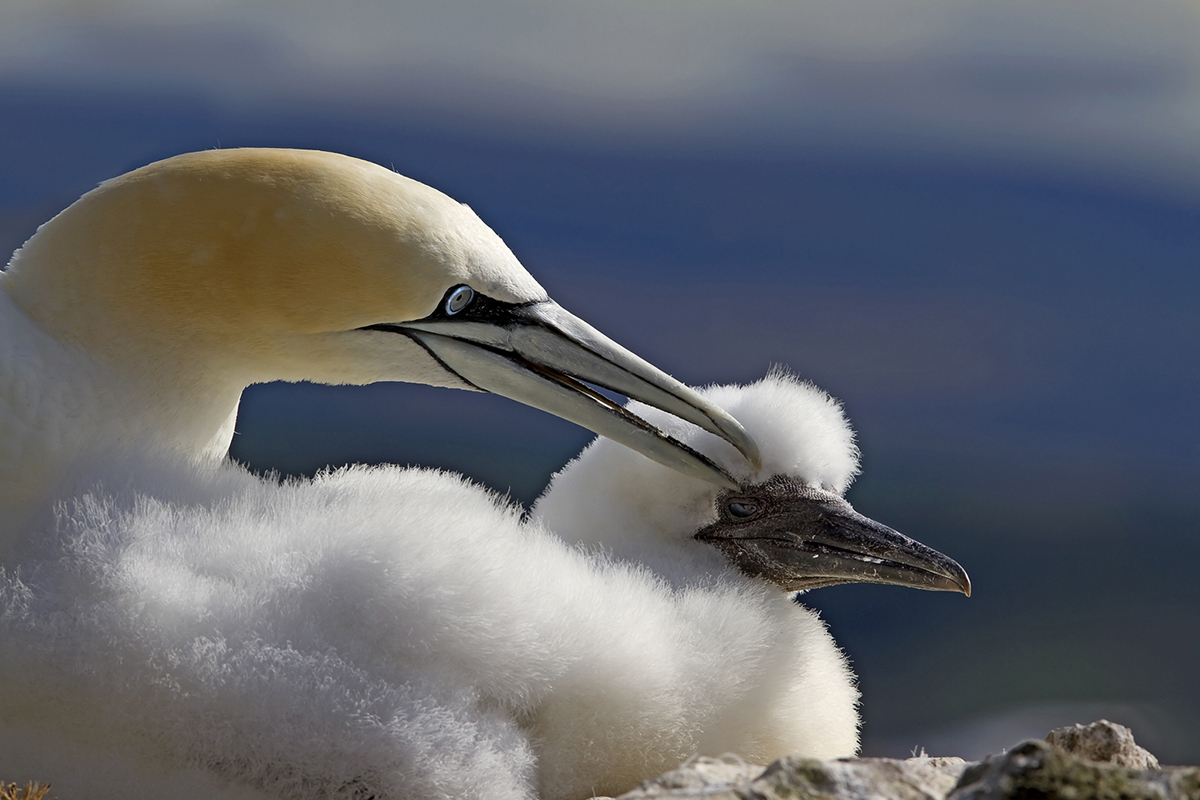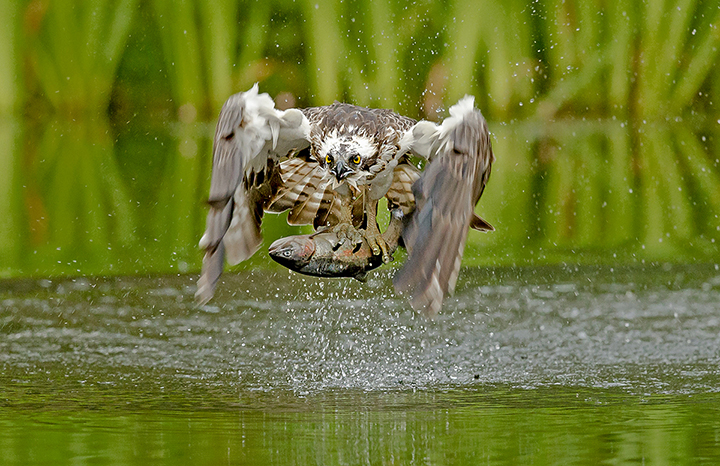 Osprey fishing
This is my favourite osprey image taken in the Scottish Highlands near Aviemore. The osprey dives from a great height to catch the fish in a small lochan. Once the fish is in the bird's talons, the bird will turn the fish's head to face the front to keep the wind drag down making it easier to get the food back to its nest for the chicks to feed on.
At the end of June, the young birds start to leave the nest and the adults teach them to dive for fish. The birds feed up preparing for their long migration to Spain and Portugal.
For more osprey images see this link